Perch Base
James W. Newman
Eternal Patrol
OBITUARY
Perch Base Plankowner, Holland Club and Life Member James (Jim) W. Newman departed on Eternal Patrol on May 28, 2020.
Our condolences to his wife Carolyn, son James S. Newman and the rest of the family.
Jim was a Plankowner member of the Perch Base USSVI and our first Base Commander. He also served many years as our Base Historian, as Western Regional Director in 1999, and has always been a substantial financial contributor to the Perch Base.
Click on thumbnail for a larger picture.
As documented in the July 2010 MidWatch Newsletter, the first official meeting of the Perch Base was held on April 1, 1995. Those present at that meeting included; Joe Otreba (Prescott), Bill Hatcher, Steve Day, Whitie Johns (Nogales), Frank Rumbaugh, Jim Newman, and his son Jim. At this meeting they elected officers and Jim was elected to be the Commander. Frank asked Jim if he would be Commander and Jim said he would if Frank would be Vice-Commander and that is how it all began. Jim Newman's son Jim was elected Secretary/Treasurer. The early meetings were held at Jim's home. Eventually the base started meeting at the DAV in Glendale. Jim was very complimentary of all who have served as officers and board members of Perch Base. He commented that Billy Grieves, Frank Rumbaugh and Bob Mays were all very instrumental in contributing to the early success of our base. In closing Jim was most thankful for all the officers who served down through the years who have done such a fine job including the present group and to the current memberships who make this base what it is today. He said that it was beyond his imagination that Perch Base would have become what it is today and he expressed his thanks and gratitude to the entire membership.
Click on thumbnail for a larger picture.
Jim qualified on the USS Sea Leopard (SS-483) in 1950 and also was assigned to the USS Tambor (SS‑198). He served in the U.S. Navy from 1948 to 1952 and discharged as an Engineman, EN1(SS).
Click on thumbnail for a larger picture.
Jim Newman's Eternal Patrol Service was held Thursday, June 4, at 1:00 PM at the Phoenix Memorial Park & Mortuary.
Click on thumbnail for a larger picture.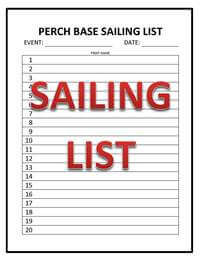 SAILOR, REST YOUR OAR! YOUR WATCH HAS ENDED.
Your Brothers of the 'Phin Have the Watch.
Fair Winds and Following Seas, Shipmate.