OBITUARY
Perch Base Holland Club and Life Member Eldon Hartman departed on Eternal Patrol on May 22, 2020.
Our condolences to his his wife, Jo; his daughters and sons-in-law, Cathy and Doug Laflan, Connie and Jim Walden, and Cindy Foster; 32 grandchildren; 41 great-grandchildren; and many other relatives and friends.
Click on thumbnail for a larger picture.
Eldon served on the USS Chivo (SS-341) from 1949 to 1950 and then on the USS Queenfish (SS-393) from 1952 to 1954, qualifying in 1953. He was in the U.S. Navy from 1949 to 1954 and discharged as a Fireman, FN(SS) having served in Japan, Hawaii, and in the Korean War.
Services were held on May 30, 2020 in Creighton, Nebraska.
SAILOR, REST YOUR OAR! YOUR WATCH HAS ENDED.
Your Brothers of the 'Phin Have the Watch.
Fair Winds and Following Seas, Shipmate.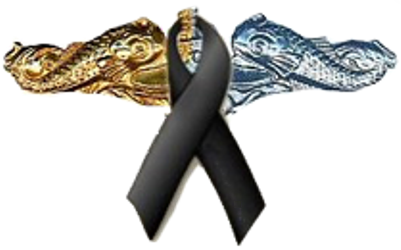 Additional information published by the Brockhaus Funeral Home in Creighton, Nebraska:
Graveside services for Eldon Hartman, age 89, of Creighton, Nebraska will be 11:00 a.m. Saturday, May 30, 2020, at Greenwood Cemetery in Creighton. Reverend Bev Hieb will officiate.
Military Honors will be provided by Veterans of Foreign Wars Post 1151, American Legion Post, 74, Army National Guard Honor Guard, and American Legion Riders.
Social distancing guidelines will be observed.
Brockhaus Funeral Home in Creighton is in charge of arrangements.
Eldon L. Hartman, 89, scored a hole in one as God lifted him from this earth and took him to his eternal home on May 22, 2020.
Eldon was born on January 10, 1931, to Clarence and Mabel (Griffin) Hartman near Alton, KS. He attended and graduated school from Natoma, KS. His dad kept him busy farming and trucking until he entered into the Navy Reserves. While trucking for the Natoma Livestock, he met the love of his life. She gave him his trucking check and he gave her his heart. On November 25, 1951, Eldon married his bride Joetta (Krug) Hartman. Leaving his young wife, the Navy called this seaman to a tour of duty in Japan and Hawaii where Eldon served in a submarine and served in the Korean War. To this union he delighted in the births of his three daughters, Cathy, Connie, and Cindy.
Eldon raised his family in Creighton, NE and worked for IBP as a cattle buyer until he retired after 30 years. Enjoying his girls at every activity was the joy of his life. Never knowing a stranger, Eldon made his clients his lifelong friends. Unless of course he didn't offer them a fair market price and then he told them the sale barn might be an option.
Eldon was a supportive community member volunteering whenever he could. This included being a volunteer fireman for 20 years, a church council member, a lifetime member of the VFW, an Elks member, and a frequent blood donor. He had many loves which included the Lord, his family, the Nebraska Cornhuskers (through the wins and losses) and golf. After his retirement, he and his bride moved to Mesa, AZ where his backyard was a golf course and he enjoyed the sport every day. He loved children. Whenever they went anywhere and Eldon was missing, you could turn around and he would be talking to or entertaining a small child.