Click on any thumbnail for a larger picture.
Perch Base Life Member and Holland Club Member George Crider, STSCS(SS) departed on Eternal Patrol on August 16, 2018.
Our condolences to his wife, Sharon, and the rest of the family.
There were 2 services, both on the same day, Thursday, September 20th.
The first was a service at the National Memorial Cemetery of Arizona. George was interred at Section I2, Row D, Site 31.
The second was a Celebration of George Crider's life at the Sun City Salvation Army chapel.
George first qualified on the USS Sea Devil (SS-400) in 1960 and served on 6 boats during his service from 1958 to his retirement in 1979. (USS Sailfish (SSR-572), USS Pomodon (SS-486), USS Sea Devil (SS-400), USS Nathanael Greene (SSBN-636), USS Woodrow Wilson (SSBN-624) and the USS Ethan Allen (SSBN-608))
SAILOR, REST YOUR OAR! YOUR WATCH HAS ENDED.
Your Brothers of the 'Phin Have the Watch.
Fair Winds and Following Seas, Shipmate.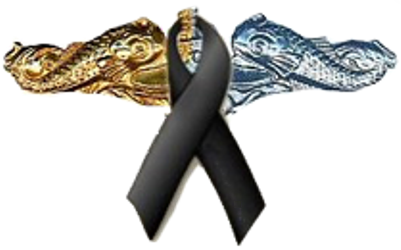 There are no pictures from the Cemetery or the Chapel.