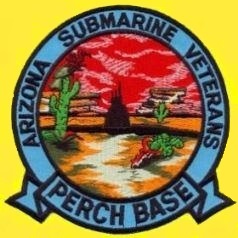 Arizona Submarine Veterans
Perch Base
Phoenix, AZ
United States Submariners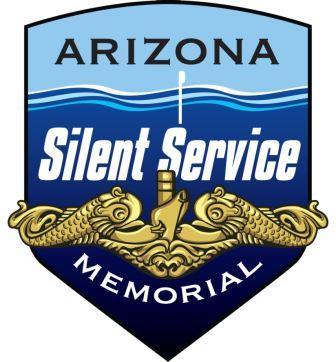 Perch Base, Holland Club and Life Member Dick Noreika gave a presentation about the Arizona Silent Service Memorial (ASSM) at the Arizona American Legion Riders annual meeting at the Carefree Resort & Conference Center on Saturday, June 24.
The purpose of the ASSM memorial, to be located in Wesley Bolin Plaza by the Arizona Capitol Building, is to honor all submariners who have served or are still serving in the "silent service" of the United States Navy.
Dick was the Commanding Officer of the USS Kamehameha (Gold crew) from 1974-1978 and Commanding Officer of the USS Michigan from 1980-1981.
Visit the ASSM website.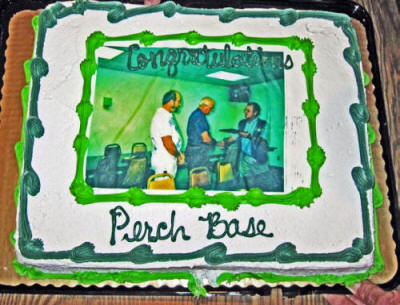 HAPPY 22nd BIRTHDAY
Perch Base was chartered by the USSVI on June 20, 1995, thus our base is 22 years old. See pictures of the original meeting and granting of the charter HERE.
Lest we forget to perpetuate the memory of our shipmates who gave their lives in the pursuit of their duties while serving their country. . .
76 years ago, on June 20, 1941, the USS O-9 (SS-70) sailed off into history on her final and eternal patrol.
While conducting test dives off Portsmouth, NH with sister ships O-6 and O-10, O-9 failed to surface. Flooding, which led to exceeding test depth caused the hull to crush. The actual hull location was located - but remains a secret - in 1997.
33 men were lost.
"Sailors, rest your oars, we have the watch."
Visit the Perch Base Eternal Patrol page.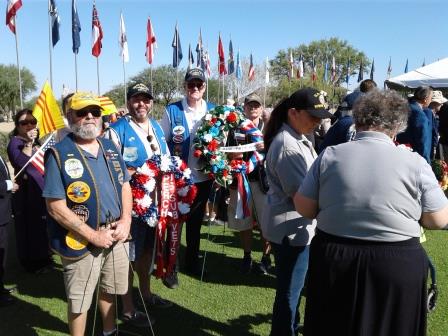 Memorial Day
Perch Base USSVI participated in Memorial Day Ceremonies at the National Cemetery of Arizona, including Tolling of the Boats, on Monday, May 29, 2017.
View more event pictures HERE.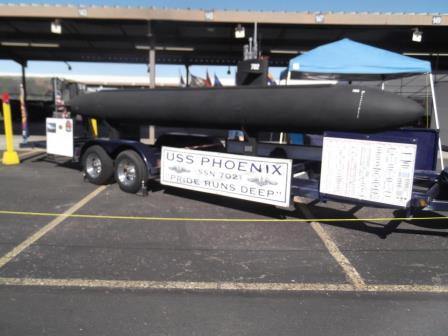 Mesa Marketplace
Perch Base Submarine Veterans (USSVI) took the USS Phoenix (SSN-702) float to the Mesa Market Place Memorial Event on May 27, 2017.
This was our first time participating in this event.
View more event pictures HERE.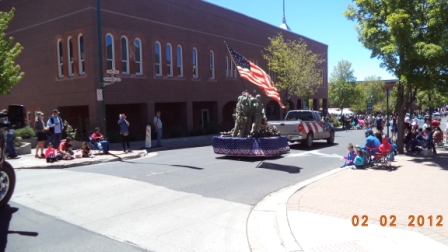 Flagstaff
A good turnout of Perch Base Members, wives and family participated in the Armed Forces Day Parade in Flagstaff on Saturday, May 20, 2017.
View more parade pictures HERE.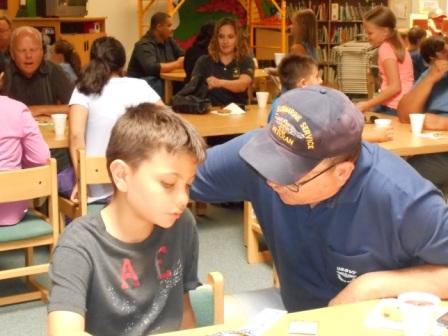 Pen Pals
Perch Base Life Member and Membership Chairman Jim Andrews participates in a Pen Pal Program sponsored by Operation Welcome Home where he write letters to a fourth grader and the fourth grader writes letters in return. This picture shows Jim talking to Noah Dobson, his Pen Pal. Noah attends Settlers Point Elementary School in Gilbert. The school happens to be just a few blocks from the park where Perch Base took the USS Phoenix (SSN-702) float for a static display at the Gilbert, AZ Veterans Day Ceremony for the last several years. There was a Booth that Operation Welcome Home was manning advertising this Pen Pal Program. On Wednesday, 5/17/2017, Jim and his wife Marcie attended a Pen Pal Meet and Greet at Settlers Point Elementary School, where they actually got to meet with the kids that participated, including Noah.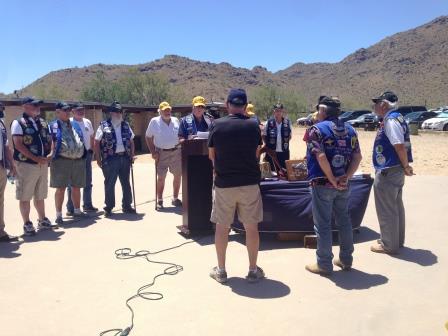 Annual Picnic
Perch Base held its Annual Picnic meeting on Saturday, May 13, 2017. Some members from Tautog Base from Casa Grande, White Mountain Base and Gudgeon Base from Prescott Valley also joined us.
Three SubVets were inducted into the Holland Club, having been qualified in submarines for 50 years.
View more picnic pictures HERE.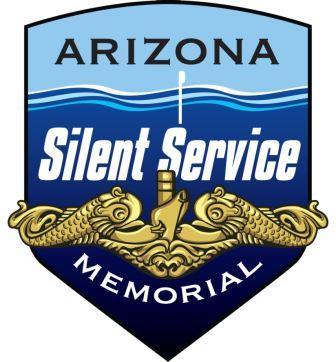 Lost Boat Sponsorships
Arizona Silent Service Memorial (ASSM) Lost Boat Sponsorships are still available for a $500 Donation.
Follow THIS LINK to see the remaining lost boat sponsorships available.
American causalities during WWII included 52 submarines lost taking the lives of 374 officers and 3,131 enlisted men. The submarine force lost 25% of those who served which represented the highest percentage of fatalities of any U.S. military force in WWII. Our WWII submarine veterans paid a high price for our freedom…we shall never forget their sacrifice..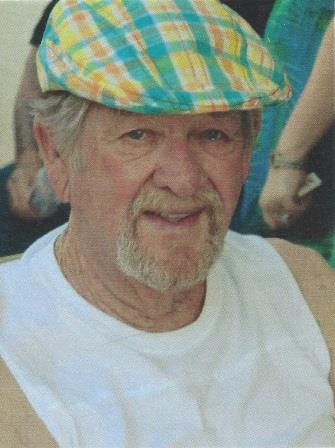 George Long
Perch Base Holland Club member George Long passed on to Eternal Patrol April 22, 2017.
George was remembered at the Melcher Mortuary in Mesa, AZ, followed by lunch at Christ's Church in San Tan Valley, AZ.
George joined the Navy in 1950, qualified in submarines on the USS Sea Fox (SS-402) in 1958 and retired from the Navy as a Chief Electrician's Mate, EMC(SS), in 1973.
See more details HERE.
SAILOR, REST YOUR OAR! YOUR WATCH HAS ENDED.
Your Brothers of the 'Phin Have the Watch.
Fair Winds and Following Seas, Shipmate.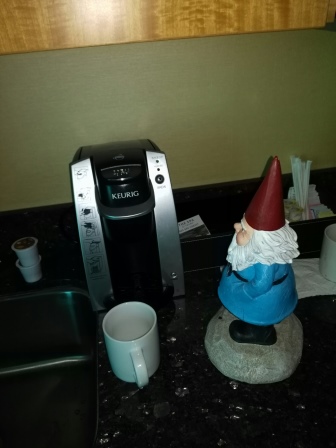 What? A sailor with no coffee?
There was an issue at the Sam's Town Hotel and Gambling Hall where the Western Regional Roundup was held, regarding NO COFFEE MAKERS in their rooms (that would have been an upgrade). Anyway, the Unser's were staying at Trump International (freebie), and had plenty of coffee. Eat your hearts out!
See more pictures HERE.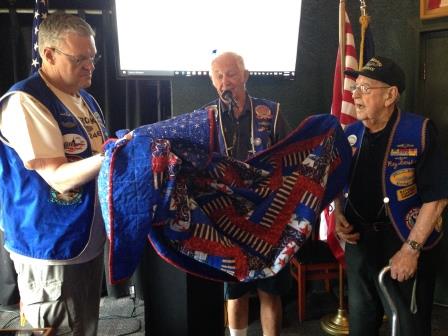 Qualified 75 Years!
Perch Base Submarine Veterans (USSVI) awarded Ray Marshall a "75 Years Qualified" rocker and Quilt of Valor on April 8, 2017.
Ray, a USSVI Life Member and Holland Club Member, joined the Navy in 1939, and retired as a Chief Engineman, ENC(SS) in 1959.
Ray qualified in 1941 on the USS Porpoise (SS-172) and served on 7 submarines.
See more pictures HERE.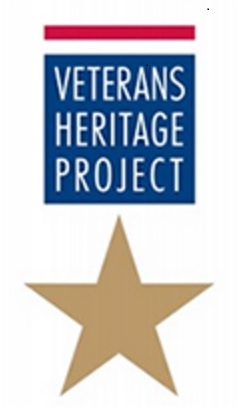 Veterans Heritage Project
Perch Base member Dick Noreika, Capt. USN (ret) encourages any submariners, but especially diesel boat sailors, to register for the Veterans Heritage Project. Many or our older sub sailors are sadly going on eternal patrol with stories that will be lost forever.
Contact Dick to get registered by emailing him at jnoreika@hotmail.com, or snail mail to P.O. Box 5272, Carefree, AZ 85377-5272.
Students in the Veterans Heritage Project (formerly Arizona Heritage Project) from chapter schools have conducted nearly 1,000 interviews with veterans from World War I to Afghanistan. An important reason to collect these narratives is to preserve them for future generations with the Veterans History Project at the Library of Congress in Washington DC, which has collected over 85,000 stories to date.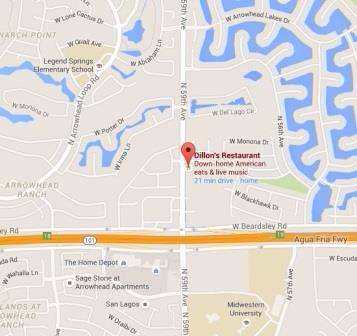 JOIN US AT A MEETING.
We meet the second Saturday of every month at 1200 hours (noon if you've been out a while) at Dillon's Restaurant, 20585 North 59th Ave, Glendale, AZ 85308-6821 (Left-click address, or the map above, for a Google map to Dillon's.) Come at 1100 for time to "socialize."
Click video to START.
The Loss of the Perch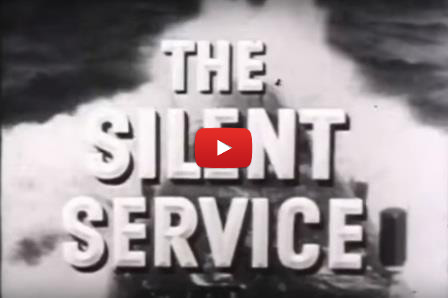 Click HERE to select another video.

When should I fly the American Flag at half staff?
65 U.S. Submarines never returned to port. Click on Eternal Patrol and see pictures and stories of the "boats" that remain at sea . . . forever, on eternal patrol.

USSVI Creed:
"To perpetuate the memory of our shipmates who gave their lives in the pursuit of their duties while serving their country. That their dedication, deeds and supreme sacrifice be a constant source of motivation toward greater accomplishments. Pledge loyalty and patriotism to the United States of America and its Constitution.
In addition to perpetuating the memory of departed shipmates, we shall provide a way for all Submariners to gather for the mutual benefit and enjoyment. Our common heritage as Submariners shall be strengthened by camaraderie. We support a strong U.S. Submarine Force.
The organization will engage in various projects and deeds that will bring about the perpetual remembrance of those shipmates who have given the supreme sacrifice. The organization will also endeavor to educate all third parties it comes in contact with about the services our submarine brothers performed and how their sacrifices made possible the freedom and lifestyle we enjoy today."

We honor those submariners
who have never
returned to port
and remain on
Eternal Patrol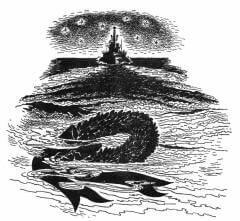 Click on the picture, above,
to see those boats on
"Eternal Patrol"

IF YOU'VE EARNED THESE...

WE are an organization with but one simple requirement to join
— have you ever worn Dolphins?
(been designated, "Qualified in Submarines.")
All of us have served their country
in the Silent Service

...WE WANT YOU!

Because we are the "SILENT SERVICE," many people are unaware of the services our submarine brothers performed in the Korean and Vietnam Wars. Thirty submarines served in the Korean War, as detailed on the USS Bowfin Submarine website. Sixty-six submarines served in the Vietnam War, as detailed in a letter from United States Secretary of the Navy Ray Mabus.

Click on this sentence, or the photo, below, to see how the float was constructed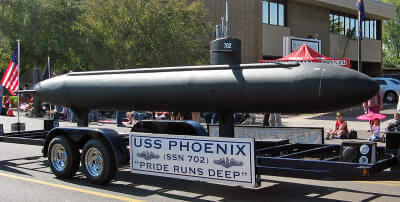 To honor those who currently serve, and those who went before us, we built this float that we use in parades and static displays. The float is a 1/15 scale model of the nuclear powered submarine USS Phoenix (SSN-702,) named after our city. The Phoenix was a Los Angeles-class submarine that was 362 feet long and, on the surface, had 32 feet of the ship under water.
Need a description of the Perch Base float, a scale model of the USS Phoenix (SSN-702)?
Click on the document icon, below, to get the approved and authentic script suitable for parades or other public events.
Refer the event organizers to http://www.perch-base.org/Float-Announcer-Script.pdf