Perch Base
Sailing Orders
This is the Base's Bulletin Board for Current Notices
All event details will be published in
Flash Traffic
messages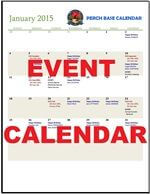 Sea Stories:
Perch Base member Dick Noreika, CAPT, USN (ret) will be speaking to the Desert Palms Presbyterian Men's Group, 13459 W Stardust Blvd, Sun City West, AZ 85375, on Tuesday, March 21 in the church Fellowship Hall (corner of Stardust and 135th). The Program starts at 8 AM with breakfast. Dick will start at about 8:30 AM with about a half hour of The Submarine League short Program (about the Status of the Submarine Force) and some Career Events/Submarine Sea Stories and about a half hour of questions and answers.
The Church Men's Club can accommodate FIVE additional Perch Base members at the event (including breakfast). The first five people that contact Dick at (480) 626-8750 or Email (dicdic@msn.com) will be put on the list to attend. Those who get on the list should wear their USSVI Vest and Cap. Arrival at the event starts about 7:45 AM. Dress is casual.
April Monthly General Meeting:
Join us at 1200 hours (noon if you've been out a while.) at Dillon's Restaurant,
20585 North 59th Ave, Glendale, AZ 85308-6821
(Left-click address, above, for a Google map to Dillon's.)
Come at 1100 for time to "socialize."
Sunday,
April 23
through
Friday,
April 28
Annual Lunch Picnic Meeting at White Tanks Park:
20304 West White Tank Mountain Road, Waddell, AZ 85355
(Left-click address, above, for a Google map to the White Tanks Park.)
Ramada 4F
(No meeting at Dillon's)
All Arizona sub vets and their families are cordially invited!
The Picnic meal will be provided by the Perch Base, including soft drinks and water, however there is a $6.00 fee per vehicle to enter the park which must be paid by the driver.
You are allowed to bring your own beer! But no glass containers, please.
If you're coming, we'll need a head count by May 7.
A few volunteers are needed who are willing to arrive early to help setup and a few to stay late to break down.
Here's some pictures from last year's Annual Lunch Picnic Meeting.
Flagstaff Armed Forces Day Parade:
The 11th Annual "Flagstaff Armed Forces Day Parade" will be held on Saturday May 20th, 2017, in Historic Downtown Flagstaff beginning at 11:00 AM.
We have been invited to parade the USS Phoenix (SSN-702) float, as in previous years.
The theme will be "Proud To Serve."
"Parade Check-In" begins at 8:00 AM at San Francisco de Asis Catholic School. We won't know our staging location until check-in, but it should be within a block or two of this location.
320 N HUMPHREYS STREET, FLAGSTAFF, AZ 86001
(Left-click address, above, for a Google map to the check in location.)
The Webmaster won't be there, so please take pictures and forward to Dan Marks.
Have a pancake breakfast at the American Legion Post 3 (204 W. Birch) from 6:00 a.m.-9:30 a.m.
Here's some pictures from last May's Flagstaff Armed Forces Day Parade.
Staging from 8AM to 10AM.
Roll at 11AM
Memorial Day:
Perch Base will attend the Memorial Day ceremony at the National Memorial Cemetery of Arizona:
This is one of the two most important events of our yearly calendar.
Because of the large crowds at this event, and the scarcity of available seating, it is strongly urged that everyone get there no later than 7 a.m.
As in previous years, we will follow with the Tolling of the Boats in the Circle of Remembrance at the World War II Submarine Torpedo monument.
23029 N. Cave Creek Rd., Phoenix, AZ 85024
(Left-click address, above, for a Google map to the cemetery.)
The Webmaster will be at his qual boat's reunion, so please take pictures and forward to Dan Marks, webmaster@perch-base.org
After the ceremonies, all shipmates (and family/spouses) are invited to stop by the Deer Valley Airport restaurant and have brunch with the rest of us. The restaurant is at the junction of Deer Valley Road and 7th Ave.
Here's some pictures from last May's Memorial Day Ceremonies.
Staging at 8AM
Roll at 9AM
Thursday
August 31
thru
Tuesday
September 5
2017 Convention:
2017 Convention will be held in Orlando, FL at the Rosen Shingle Creek Resort.
Visit the Convention website.
(More details to follow.)
Here's some pictures from last year's Convention in Reno, NV.