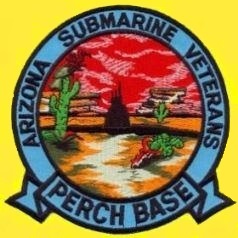 Arizona Submarine Veterans
Perch Base
Phoenix, AZ
United States Submariners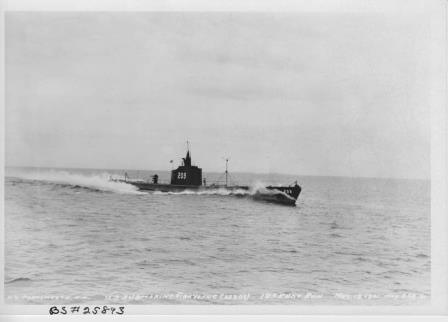 Lest we forget to perpetuate the memory of our shipmates who gave their lives in the pursuit of their duties while serving their country. . .
76 years ago, on Sept. 9, 1943, the USS Grayling (SS-209), sailed off into history on her final and eternal patrol.
No recorded Japanese attacks could have sunk Grayling. Grayling was on her 8th war patrol and sank two ships before being lost. Her loss may have been operational or by an unrecorded attack. The only certainty, therefore, is that Grayling was lost between 9 September and 12 September 1943 either in Lingayen Gulf or along the approaches to Manila. ComTaskFor71 requested a transmission from Grayling on 12 September, but did not receive one.
76 men were lost.
"Sailors, rest your oars, we have the watch."
Visit the Perch Base Eternal Patrol page.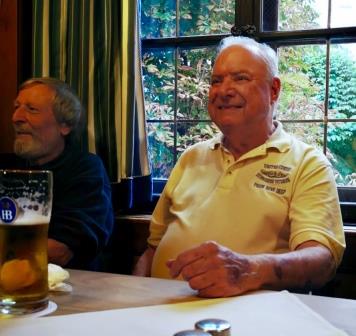 Tim Moore
In München (Munich), Germany
Perch Base Life and Holland Club Member Tim Moore went to München (Munich), Germany for a gathering of Submariners on 09/05/2019.
Tim is the Foundation Chairman of the Arizona Silent Service Memorial (ASSM) that will be erected in Wesley Bolin Memorial Plaza located in the "front yard" of the Arizona State Capitol Complex, 1700 W. Washington Street, Phoenix, AZ.
Now that the initial fundraising goal has been met, we are seeking the necessary approvals to proceed from the State, hopefully in early September. Announcements for our groundbreaking ceremony and then finally the dedication ceremony will follow.
This could be later this year or early next year. We will know more when we finalize our construction timeline.
See more pictures of Tim in München HERE.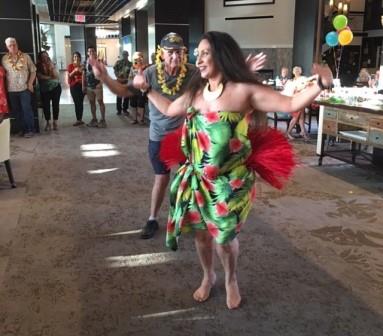 Cap'n Noreika
Hula Warrior
Although Hula dancers are often pretty woman, the origin of the Hula dance is a warrior dance!
A Hula dancer came to LivGenerations, where Perch Base USSVI Life and Holland Club Member Captain Dick Noreika lives, to perform for the residents.
She happened to see Dick wearing his USS Kamehameha cap and promptly invited him to perform with her.
Captain Noreika was commanding officer of the USS Kamehameha (SSBN-642) from 1974 to 1978. He qualified on the Patrick Henry (SSBN-599), was Engineer on the USS Tinosa (SSN-606), XO on the USS Batfish (SSN-681), and Prospective Commanding Officer of the USS Michigan (SSBN-727) during its construction. He also commanded the Trident Refit Facility in Bangor, WA and worked closely with Admiral Rickover conducting Operational Reactor Safeguards Examinations (ORSE).
Harold Weber
Former Perch Base Member Harold Weber ETC(SS) departed on Eternal Patrol on August 24, 2019.
Our condolences to his sisters, Jan Harding and Beverly Henson, and the rest of the family.
The memorial service was held at the National Memorial Cemetery of Arizona on Monday, September 9, 2019.
View the Eternal Patrol notice with additional details and pictures HERE.
SAILOR, REST YOUR OAR! YOUR WATCH HAS ENDED.
Your Brothers of the 'Phin Have the Watch.
Fair Winds and Following Seas, Shipmate.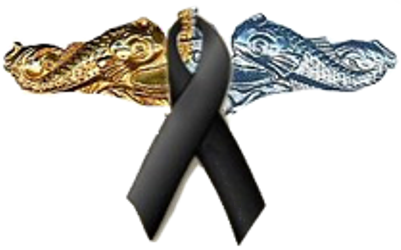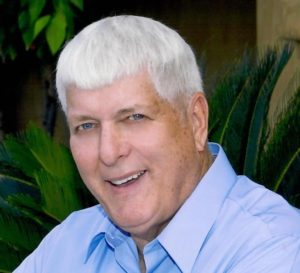 Karl Bergstrom
Perch Base Life Member and Holland Club Member Karl G. Bergstrom, AWC(SS)(AW) (ret) departed on Eternal Patrol on August 5, 2019.
Our condolences to his wife, Susan, and the rest of the family.
Services were not announced.
View the Eternal Patrol notice with additional details and pictures HERE.
SAILOR, REST YOUR OAR! YOUR WATCH HAS ENDED.
Your Brothers of the 'Phin Have the Watch.
Fair Winds and Following Seas, Shipmate.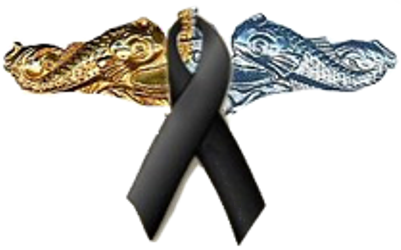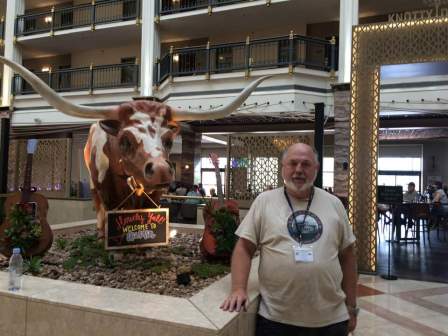 2019 National Convention
Several Perch Base Submarine Veterans (USSVI) and wives went to the 2019 USSVI National Convention held from August 14 through 20, 2019 in Austin, Texas, hosted by Central Texas Base and Brazos Valley Base.
Thanks to those who sent pictures to the Webmaster.
See more pictures HERE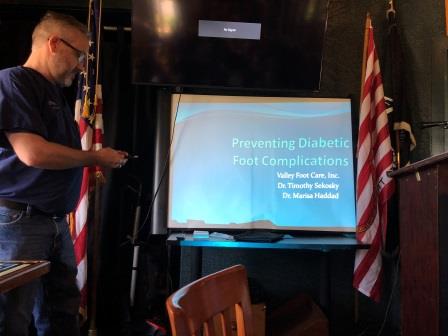 Diabetic Foot
Care Presentation
Dr. Tim Sekosky, D.P.M., gave a presentation on diabetic foot care during the August 10, 2019, general meeting.
Dr. Sekosky discussed how to care for our feet and symptoms of diabetic neuropathy. He also provided a handout.
Dr. Sekosky offered a free introductory screening appointment during August, September and October 2019, to the Perch Base members who are veterans. His contact information is in the handout.
Thanks to Dr. Sekosky for the presentation and to Perch Base Life Member and Event Coordinator Don Unser for extending the invitation.
See the handout and more pictures HERE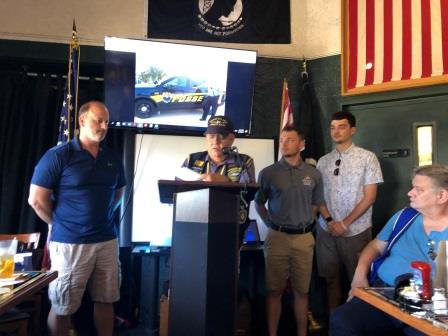 Scholarship Presentation
Congratulations to the children and grandchildren of Perch Base members who each received $1,000 scholarships during the August 10, 2019 general meeting. The Perch Base treasury provided $500 toward each scholarship and the Perch Base Charitable Foundation provided the other $500 toward each scholarship.
The Scholarship recipients were Jaid Urness, Cameron Millette and Jacen Millette.
Jaid Urness is the Daughter of Perch Base member Chris Urness. Cameron and Jacen are Grandsons of our Perch Base Commander Howard Doyle.
The photo (l-r) shows Chris Urness, Howard Doyle, Jacen Millette and Cameron Millette.
Jaid was already at school, and was not able to accept the scholarship in-person, thus it was accepted on her behalf by her father, Chris.
See more pictures HERE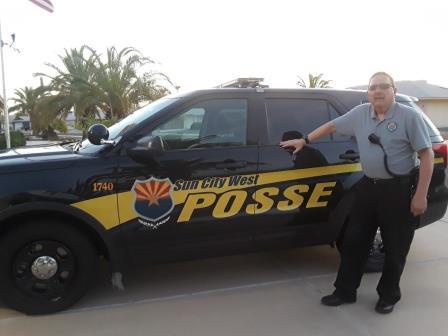 Jim Andrews
Back In Uniform
Perch Base Life Member and Membership Chairman Jim Andrews is back in uniform!
Jim helps keep his fellow residents in Sun City West, AZ safe since he joined the Sun City West Sheriff's Posse.
The Posse works closely with the Maricopa County Sheriff's Office. The Posse is the eyes and the ears that provide the day to day patrolling coverage and theft deterrent that comes from having their patrol cars on the street virtually 24 hours per day. That means a much safer community since the Posse is the first line of security as part of the Maricopa County Sheriff's Office.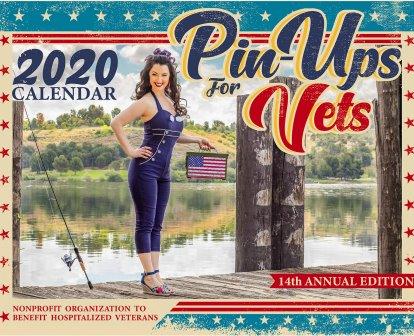 Pinups For Vets
Our Perch Base member Rick Simmons is encouraging our membership to support "Pinups For Vets."
Pin-Ups For Vets, a 501(c)(3) organization, raises funds to improve Veterans' healthcare, donates funds to VA hospitals for medical equipment and program expansion, improves quality of life for ill Veterans across the United States through personal bedside visits to deliver gifts, promotes volunteerism at Veterans Hospitals, supports homeless Veterans with clothing and calendar gifts delivered to shelters, boosts morale for military wives and female Veterans with makeovers and clothing, and boosts morale for deployed troops through delivery of care packages.
Visit the Pinups For Vets website at https://www.pinupsforvets.com/
They sell calendars, patches, posters and much more.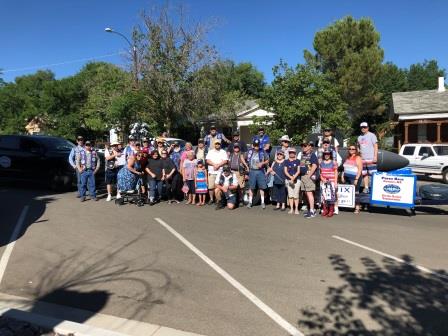 Prescott Frontier Days® Parade
Perch Base took the USS Phoenix float up to Prescott, Arizona on July 6th, 2019, for the Prescott Frontier Days® Parade.
We participated in the parade with Gudgeon Base and Tucson Base. Fifty members and family rode or walked in the parade from the 3 bases!
Our combined entry was the winner of the "Sombrero Hat" award in the "Fraternal / Church / Non-Profit" category!
After the parade, we had a BBQ lunch at Sherry and Tom Warner's home in Prescott Valley.
View more event pictures HERE.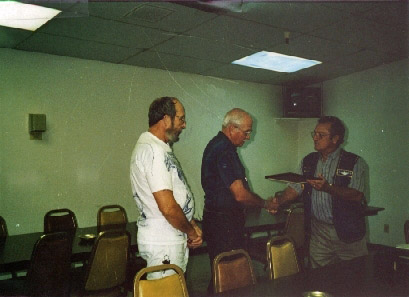 HAPPY 24th BIRTHDAY
Then USSVI National Commander Charles Marin, presents the Perch Base its Charter to Jim Newman and Frank Rumbaugh -- Commander and Vice Commander -- of the Base on Sept. 23, 1995. The date of the charter, and Base "birthday," is June 20, 1995.
Read more about the charter HERE.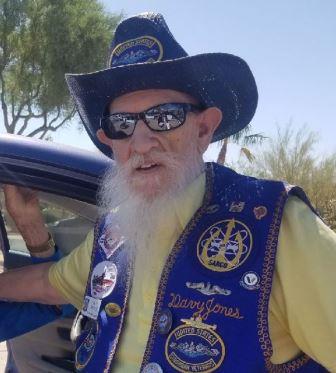 YARD SALE
As discussed at the June monthly meeting, our Perch Base Life and Holland Club member Davy Jones needs some assistance inventorying his storage locker, to see what he can provide for a yard sale to benefit the ASSM Memorial! It's jammed, he can't use his left hand to lift, and the right hand needs to support him! Davy is looking for volunteers, and a volunteer to provide a yard for a yard sale! (and possibly a garage for temp storage!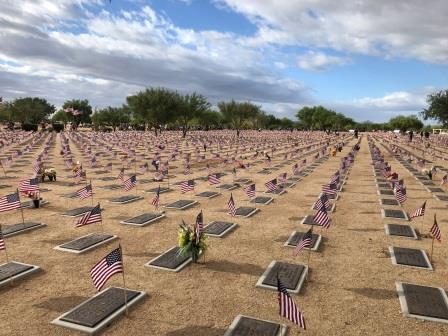 Memorial Day
Perch Base USSVI participated in Memorial Day Ceremonies at the National Cemetery of Arizona, including Tolling of the Boats, on Monday, May 27, 2019.
View more Memorial Day pictures HERE.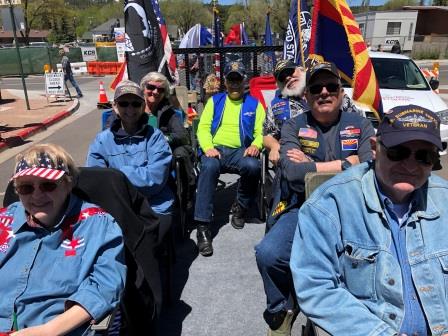 Flagstaff
A good turnout of Perch Base Members and wives participated in the 13th Annual Armed Forces Day Parade in Flagstaff on Saturday, May 18, 2019. The parade theme was "veteran pride."
View more parade pictures HERE.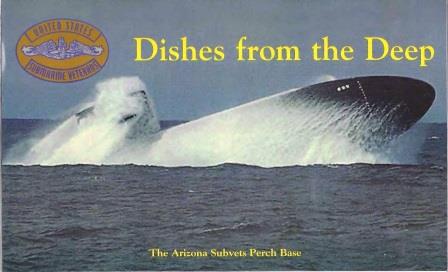 "Dishes From the Deep,"
Perch Base published a 140 page Perch Base cookbook titled, "Dishes From the Deep," vintage 1996, as a base fundraiser. Thanks to Layne Moss who provided a copy.
The recipes taste as good today as they did 23 years ago!
View the cookbook and read more about the cookbook's history HERE.
WANT TO CARPOOL?
NEED A RIDE?
The image, above, shows that we have members all over metropolitan Phoenix. Left-click on the image for a larger view. If you are a Perch Base member and would like to consider carpooling, you are willing to pickup another member, or you need a ride to meetings or events, send an email to the webmaster at webmaster@perch-base.org.
The Board of Directors will attempt to match you with another nearby member who has similarly asked to carpool, or is willing to pickup another member. The Board will then provide the name, email, and phone number to the interested members that can then get in touch with each other to make specific arrangements. We are not publicly posting names or personal information to maintain privacy.
Keep in mind that if you wait until the last minute to request a match-up for a particular event, we may not be able to respond in time.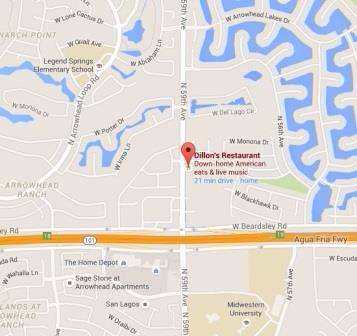 JOIN US AT A MEETING.
We meet the second Saturday of every month at 1200 hours (noon if you've been out a while) at Dillon's Restaurant, 20585 North 59th Ave, Glendale, AZ 85308-6821 (Left-click address, or the map above, for a Google map to Dillon's.) Come at 1100 for time to "socialize."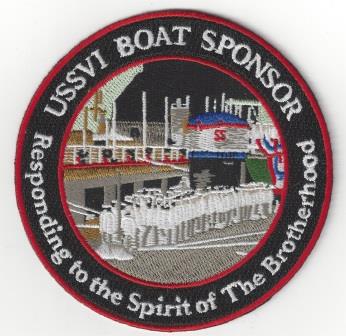 BOAT SPONSORSHIP PROGRAM
The purpose of the Boat Sponsorship Program (BSP) is to make the active duty submarine force members aware of USSVI and provide them with information about our activities through sponsorship of the American Submariner to the various Submarine related organizations. After all, these force members represent the future core membership of USSVI.
Perch Base is a sponsor, but did you know that individual members may sponsor each Fast Attack Submarine and/or each crew of the Boomers? Magazines are also sent to VA hospitals, NROTC units, schools and other places. The cost is $30 per year for a total of 12 magazines (three each of the four annual volumes.)
Our Perch Base Life Member Vic Van Horn is the USSVI BSP Program Manager. Let's make Vic proud. Check your copy of the American Submariner to sign up for the program.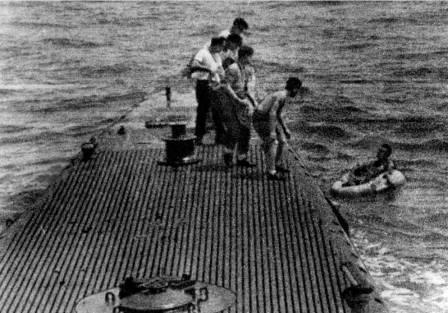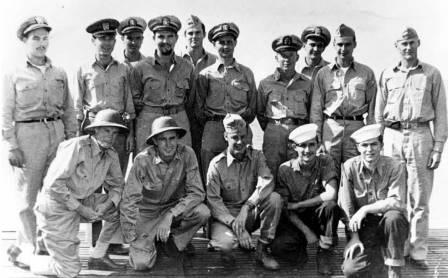 Lt. (jg) George Herbert Walker Bush
In the upper picture, above, the crew of the USS Finback (SS-230) rescues downed pilot, Lieutenant Bush of Torpedo Squadron 51 on September 2, 1944 after Japanese antiaircraft defense shot down his torpedo bomber between the northeastern end of Minami Jima and the southern tip of Chichi Jima. (Left-click the picture to enlarge.)
In the bottom picture, Rescued pilots and the crew and officers of the Finback. Lt. (jg) George Herbert Walker Bush is second from the left in the front row.
Bush, and 4 other rescued aviators remained on the Finback as "guests" while she tracked and attacked convoys, endured depth charges from Japanese escort ships, and sank two ships (an oiler and small cargo ship). The five ended their stay on the Finback on Midway Island on September 29, after 29 days aboard the submarine (and crossing the international date line).
Read more about how the submarine service performed "Lifeguard Duty" during WW2 in the National Archives HERE.
Click video to START.
The Loss of the Perch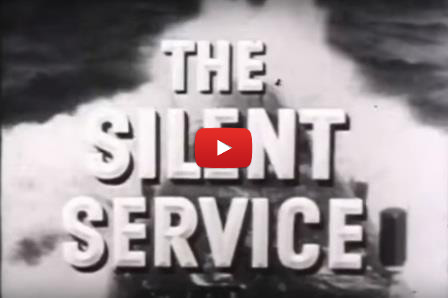 Click HERE to select another video.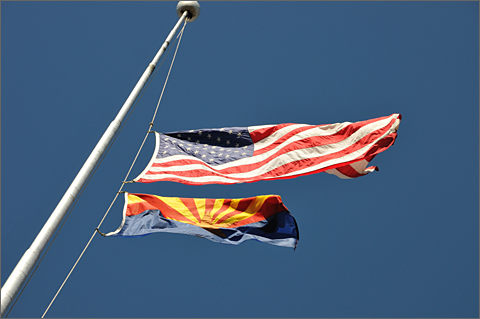 Governor Ducey is calling for the flags at all state buildings to be flown at half-staff from sunrise until sunset on Wednesday, September 11, 2019 in observance of Patriot Day. Congress has designated September 11th of each year as "Patriot Day", a national day of remembrance for the innocent victims who lost their lives and in honor of the families they left behind.
"Today, we remember the nearly 3,000 people killed, including more than 400 first responders, in the worst terror attack on our nation's soil 18 years ago," said Governor Ducey. "The unforgettable, tragic events of that day left our nation devastated, shocked and forever changed. But America did not cower. We forged ahead, lifting each other up and coming together in strength and compassion for our fellow citizens.
"Now, 18 years removed, it's more important than ever that younger generations, many who never lived through or have no memory of that day, know the sacrifice, heroism and resilience of the American people: the brave firefighters who rushed into burning buildings to get others out; the passengers of Flight 93 who gave their lives to save countless others; the first responders who worked day and night to locate survivors.
"For the victims, their families, and all who have served and continue to serve to keep us safe — we have not forgotten, and we never will."
Individuals, businesses, and other organizations are encouraged to join in this tribute.
65 U.S. Submarines never returned to port. Click on Eternal Patrol and see pictures and stories of the "boats" that remain at sea . . . forever, on eternal patrol.

USSVI Creed:
"To perpetuate the memory of our shipmates who gave their lives in the pursuit of their duties while serving their country. That their dedication, deeds and supreme sacrifice be a constant source of motivation toward greater accomplishments. Pledge loyalty and patriotism to the United States of America and its Constitution.
In addition to perpetuating the memory of departed shipmates, we shall provide a way for all Submariners to gather for the mutual benefit and enjoyment. Our common heritage as Submariners shall be strengthened by camaraderie. We support a strong U.S. Submarine Force.
The organization will engage in various projects and deeds that will bring about the perpetual remembrance of those shipmates who have given the supreme sacrifice. The organization will also endeavor to educate all third parties it comes in contact with about the services our submarine brothers performed and how their sacrifices made possible the freedom and lifestyle we enjoy today."

We honor those submariners
who have never
returned to port
and remain on
Eternal Patrol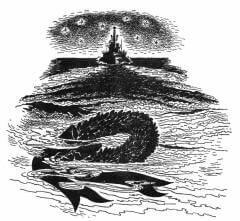 Click on the picture, above,
to see those boats on
"Eternal Patrol"

IF YOU'VE EARNED THESE...

WE are an organization with but one simple requirement to join
— have you ever worn Dolphins?
(been designated, "Qualified in Submarines.")
All of us have served their country
in the Silent Service

...WE WANT YOU!

Because we are the "SILENT SERVICE," many people are unaware of the services our submarine Brothers of the 'Phin performed in the Korean and Vietnam Wars. Thirty submarines served in the Korean War, as detailed on the Korean War Educator website *. Sixty-six submarines served in the Vietnam War, as detailed in a letter from United States Secretary of the Navy Ray Mabus. Also check out the related SubVet_News-2019-030 regarding Agent Orange exposure by Blue Water veterans.

Click on this sentence, or the photo, below, to see how the float was constructed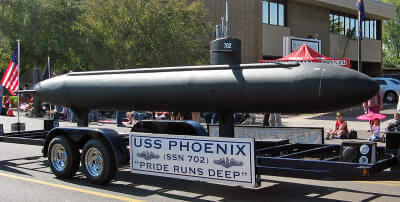 To honor those who currently serve, and those who went before us, we built this float that we use in parades and static displays. The float is a 1/15 scale model of the nuclear powered submarine USS Phoenix (SSN-702,) named after our city. The Phoenix was a Los Angeles-class submarine that was 362 feet long and, on the surface, had 32 feet of the ship under water.
Need a description of the Perch Base float, a scale model of the USS Phoenix (SSN-702)?
Click on the document icon, below, to get the approved and authentic script suitable for parades or other public events.
Refer the event organizers to Float-Announcer-Script.pdf