More details in HOT ITEMS
See the NEWSLETTER.
: - newsletter has been issued,
Join us Saturday, October 10 at 1200 hours at Dillon's Restaurant. Come at 1100 for time to "socialize."

-

If you need directions, click on the Google Map in the left column.
-
Congratulations to Perch Base Holland Club Member Charles Marshall.
The Phoenix Veterans Day Parade will have several Grand Marshals, representing each conflict period.
Charles was selected as the Cold War Era (1945 to 1991) Grand Marshal. He was nominated by his daughter, Amy Satterfield. Nominators provided complete write ups about who the Veteran was, where they served, what conflicts they were in, the medals they earned, how their military service impacted their life and touching requests about why they should be selected as a marshal this year.
A bio based on Amy's application can be viewed here.
The Perch Base USS Phoenix (SSN-702) float will also be in the Phoenix Veterans Day Parade on November 11.

Lest we forget to perpetuate the memory of our shipmates who gave their lives in the pursuit of their duties while serving their country. . .
71 years ago, on Oct. 3, 1944, the USS Seawolf (SS-197), sailed off into history on her final and eternal patrol.
In October 1944, The US Seventh Fleet task group was attacked. The four friendly submarines in the vicinity were twice ordered to give their positions, but Seawolf did not respond. A US carrier plane then sighted a submarine diving; it dropped two bombs, although in a safety zone for American submarines. An escort sped to the area to initiate sound contact, but received only unrecognizable dot and dash signals. The escort attacked with hedgehogs, setting off underwater explosions, which caused floating debris to surface. The USS Seawolf was never seen or heard from again. After the war, examination of Japanese data showed no record of an attack at that time and in that location. It is therefore presumed that Seawolf was sunk, but no identification was ever found.
100 men were lost.
"Sailors, rest your oars, we have the watch."
Visit the Perch Base Eternal Patrol page.

Thanks to Mike Olsen, who volunteered to be our Base Chaplain and was then appointed by the Base Commander, Chuck Emmett. Mike was the Chaplain for Base 51 in Las Vegas for over five years. If you need to contact Mike, or any of the other Base Officers, there is a complete list on the Base Officer page HERE.

Marcus, our storekeeper is taking preorders for Polo shirts at $20 per shirt and Hoodies at $40 per shirt. Remember, summer is almost over and it isn't always 110°F in Phoenix, AZ. Contact Marcus at storekeeper@perch-base.org to place your order.

2016 Calendars are HERE!
Our Perch Base members brought back the new 2016 calendars from the USSVI National Convention in Pittsburgh. They will be available for purchase from the Storekeeper for $8.00 at the monthly meetings at Dillon's Restaurant.
Contact Marcus the Storekeeper (storekeeper@perch-base.org) if special additional costs or arrangements, such as mailing, are needed.
This is the major fundraiser for USSVI National to promote programs such as scholarships, the "Brotherhood Program" that helps needy submarine veterans, and improving and maintaining memorials.

Click video to START / STOP.

Click HERE to select another video.
When should I fly the American Flag at half staff?

In accordance with the President's proclamation, Governor Ducey has ordered that flags at all state office buildings be lowered to half-staff beginning October 2, 2015, until sunset Tuesday, October 6, 2015, in honor and remembrance of the victims of the mass shooting in Roseburg, Oregon, and in observance of the 34th Annual National Firefighters Memorial Weekend.
Individuals, businesses, and other organizations are encouraged to join in this tribute.
Check out the Arizona Half Staff Notification web site.

65 U.S. Submarines never returned to port. Click on Eternal Patrol and see pictures and stories of the "boats" that remain at sea . . . forever, on eternal patrol.

Need to reach us or have a question?
USSVI Creed:
"

To perpetuate the memory of our shipmates who gave their lives in the pursuit of their duties while serving their country.

That their dedication, deeds and supreme sacrifice be a constant source of motivation toward greater accomplishments. Pledge loyalty and patriotism to the United States of America and its Constitution.
In addition to perpetuating the memory of departed shipmates, we shall provide a way for all Submariners to gather for the mutual benefit and enjoyment.

Our common heritage as Submariners shall be strengthened by camaraderie. We support a strong U.S. Submarine Force.
The organization will engage in various projects and deeds that will bring about the perpetual remembrance of those shipmates who have given the supreme sacrifice.

The organization will also endeavor to educate all third parties it comes in contact with about the services our submarine brothers performed and how their sacrifices made possible the freedom and lifestyle we enjoy today."
We honor those submariners
who have never
returned to port
and remain on
Eternal Patrol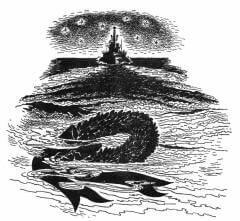 Click on the picture, above,
to see those boats on
"Eternal Patrol"
IF YOU'VE EARNED THESE...

WE are an organization with but one simple requirement to join
— have you ever worn Dolphins?
(been designated, "Qualified in Submarines.")

All of us have served their country
in the Silent Service

...WE WANT YOU!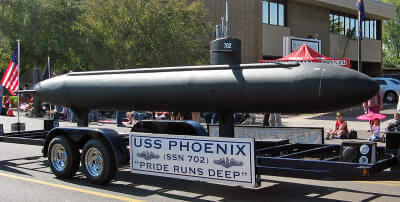 To honor those who currently serve, and those who went before us, we built this float that we use in parades and static displays. The float is a 1/15 scale model of the nuclear powered submarine USS Phoenix (SSN-702,) named after our city. The Phoenix was a Los Angeles-class submarine that was 362 feet long and, on the surface, had 32 feet of the ship under water.