More details in HOT ITEMS
USSVI 2015 National Convention in Pittsburg, PA.

- Details on Convention website at http://www.ussviconventionsteelcity2015.org/.
-
Join us Saturday, September 19 at 1200 hours (NOTE: This is the THIRD Saturday) at Dillon's Restaurant. Come at 1100 for time to "socialize."

-

If you need directions, click on the Google Map in the left column.
-
Perch Base was invited to attend the Gudgeon Base Picnic held at Fain Park in Prescott Valley, Arizona on August 22, 2015.
The picnic was a nice break from the Phoenix heat for our members and also included a Holland Club Membership Induction Ceremony for Jack Gleason who has been qualified in submarines for 50 years.
Perch Base member and Membership Chairman, Jim Andrews, recaptured the Dolphin Plaque taken by Gudgeon Base during their visit to our picnic in May. The Dolphin Plaque is captured by when at least 3 members of an Arizona Base visit another Base's meeting AND one visiting member tells a Sea Story.
See additional photos on the Perch Base Events page.

Herb Coulter departed on Eternal Patrol on Friday, July 31, 2015. Herb Coulter enlisted in the Navy in 1956 and retired from active duty in 1975 as a Master Chief Machinist Mate, MMCM(SS). Herb qualified in submarines in 1958 on the USS Wahoo (SS-565). He also served on the USS Pollack (SSN-603), the USS Ulysses S Grant (SSBN-631), and the USS Nathan Hale (SSBN-623).
He joined our Perch Base USSVI on June 23, 2011, became a Life Member on November 6, 2012, and was inducted into the Holland Club due to being submarine qualified over 50 years. Herb served the Perch Base as the Storekeeper and the Treasurer.
SAILOR, REST YOUR OAR! YOUR WATCH HAS ENDED.
Your Brothers of the 'Phin Have the Watch.
Additional details from the obituary and photos from the Memorial Service and Reception held August 28 are on the Perch Base Events page.

Lest we forget to perpetuate the memory of our shipmates who gave their lives in the pursuit of their duties while serving their country. . .
66 years ago, on Aug. 26, 1949, the USS Cochino (SS-345), sailed off into history on her final and eternal patrol.
On 18 July 1949, Cochino put to sea for a cruise to Britain, and arctic operations. Her group ran through a violent polar gale off Norway, and the joltings received by Cochino played their part on 25 August in causing an electrical fire and battery explosion, followed by the generation of both hydrogen and chlorine gases. Defying the most unfavorable possible weather conditions, the commander of the Cochino, and his men fought for 14 hours to save the submarine, but a second battery explosion on 26 August made "Abandon Ship" the only possible order, and Cochino sank. *The USS Tusk's rescued all of Cochino's men except for Robert Wellington Philo, a civilian engineer. Six sailors from Tusk were lost during the rescue.
* 7 men were lost.
"Sailors, rest your oars, we have the watch."
Visit the Perch Base Eternal Patrol page.

Click video to START / STOP.

Click HERE to select another video.
| | | |
| --- | --- | --- |
| When should I fly the American Flag at half staff? | 65 U.S. Submarines never returned to port. Click on Eternal Patrol and see pictures and stories of the "boats" that remain at sea . . . forever, on eternal patrol. | Need to reach us or have a question? |
USSVI Creed:
"

To perpetuate the memory of our shipmates who gave their lives in the pursuit of their duties while serving their country.

That their dedication, deeds and supreme sacrifice be a constant source of motivation toward greater accomplishments. Pledge loyalty and patriotism to the United States of America and its Constitution.
In addition to perpetuating the memory of departed shipmates, we shall provide a way for all Submariners to gather for the mutual benefit and enjoyment.

Our common heritage as Submariners shall be strengthened by camaraderie. We support a strong U.S. Submarine Force.
The organization will engage in various projects and deeds that will bring about the perpetual remembrance of those shipmates who have given the supreme sacrifice.

The organization will also endeavor to educate all third parties it comes in contact with about the services our submarine brothers performed and how their sacrifices made possible the freedom and lifestyle we enjoy today."
We honor those submariners
who have never
returned to port
and remain on
Eternal Patrol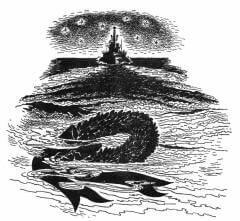 Click on the picture, above,
to see those boats on
"Eternal Patrol"
IF YOU'VE EARNED THESE...

WE are an organization with but one simple requirement to join
— have you ever worn Dolphins?
(been designated, "Qualified in Submarines.")

All of us have served their country
in the Silent Service

...WE WANT YOU!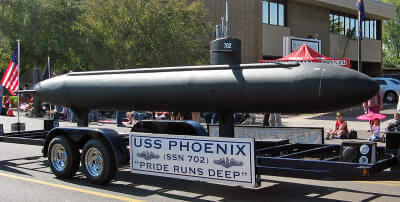 To honor those who currently serve, and those who went before us, we built this float that we use in parades and static displays. The float is a 1/15 scale model of the nuclear powered submarine USS Phoenix (SSN-702,) named after our city. The Phoenix was a Los Angeles-class submarine that was 362 feet long and, on the surface, had 32 feet of the ship under water.