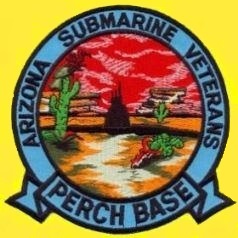 Arizona Submarine Veterans
Perch Base
Phoenix, AZ
United States Submariners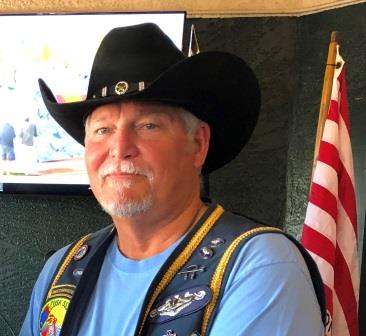 ELECTION TIME
Elections for District Commanders are open from June 15, 2019, until close of business on July 15, 2019. Emailed ballots must be received by close of business on July 15th and mailed ballots must be postmarked no later than July 15th to be counted. Perch Base is in Western District 1.
As one of our own is the only candidate for Western District 1 Commander (Perch Base Life and Holland Club member Vic Van Horn), you are encouraged to vote. PERCH BASE MEMBERS VOTE ONLY FOR THE DISTRICT COMMANDER THAT IS IN THEIR PRIMARY BASE DISTRICT.
The ballot is available HERE. Additional instructions are also available HERE. The USSVI Bylaws regarding the election of District Commanders are available HERE.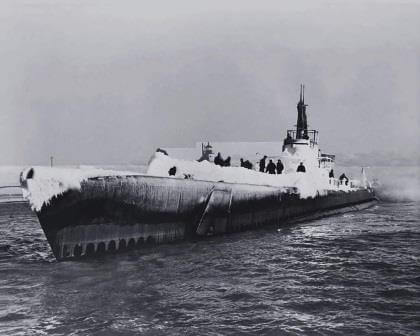 Lest we forget to perpetuate the memory of our shipmates who gave their lives in the pursuit of their duties while serving their country. . .
75 years ago, on June 14, 1944, the USS Golet (SS-361), sailed off into history on her final and eternal patrol.
Japanese antisubmarine records available after the war revealed that Golet was the probable victim of a Japanese antisubmarine attack made 14 June 1944. These records mention that the attack brought up corks, rafts, and other debris and a heavy pool of oil, all evidence of the sinking of a submarine.
82 men were lost.
"Sailors, rest your oars, we have the watch."
Visit the Perch Base Eternal Patrol page.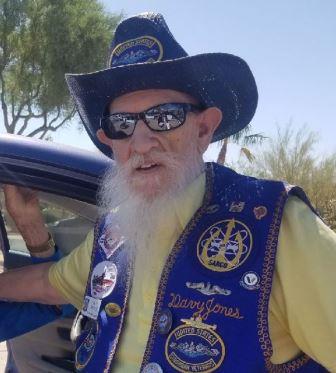 YARD SALE
As discussed at the June monthly meeting, our Perch Base Life and Holland Club member Davy Jones needs some assistance inventorying his storage locker, to see what he can provide for a yard sale to benefit the ASSM Memorial! It's jammed, he can't use his left hand to lift, and the right hand needs to support him! Davy is looking for volunteers, and a volunteer to provide a yard for a yard sale! (and possibly a garage for temp storage!
Scholarships Available
Do you know a young adult who is the son, daughter, step son, step daughter, grandson, granddaughter or under the legal guardianship of a Regular Member in good standing of Perch Base who could use extra money for schooling. (Not just college.) See the Perch Base instruction on our website at
http://www.perch-base.org/
Total_Perch_Base_Scholarship_Package.pdf
for details.) You can also access the instructions in the Navigation Menu in the upper left corner of any Perch Base webpage and drop down to "Docs and Forms".
The deadline is July 31 so don't delay!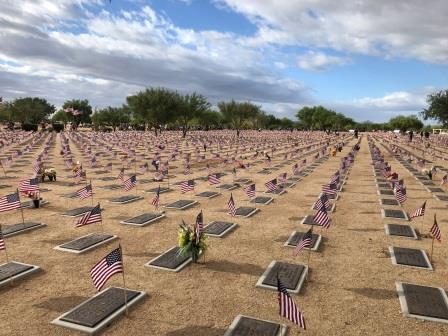 Memorial Day
Perch Base USSVI participated in Memorial Day Ceremonies at the National Cemetery of Arizona, including Tolling of the Boats, on Monday, May 27, 2019.
View more Memorial Day pictures HERE.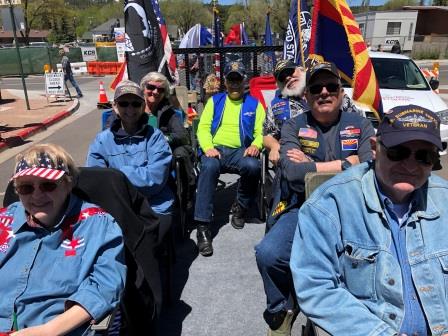 Flagstaff
A good turnout of Perch Base Members and wives participated in the 13th Annual Armed Forces Day Parade in Flagstaff on Saturday, May 18, 2019. The parade theme was "veteran pride."
View more parade pictures HERE.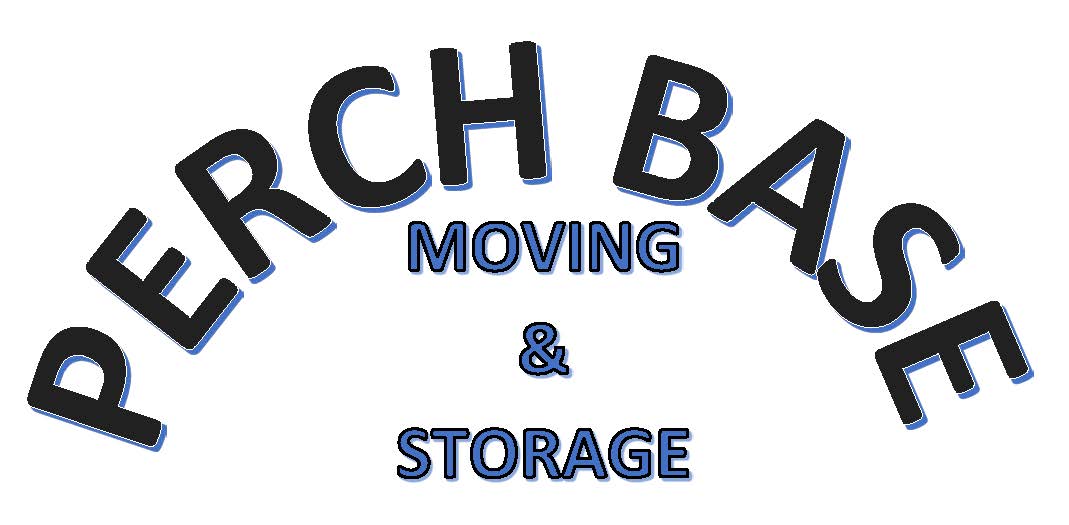 Remember that our USSVI Creed, in part, includes "we shall provide a way for all Submariners to gather for the mutual benefit . . . Our common heritage as Submariners shall be strengthened by camaraderie."
On April 25, 2019, Perch Base Holland Club and Life Member Dick Noreika, Capt, USN, (ret) needed help to move his personal effects to an assisted living facility following the sale of his home. Our Western Region Director, Perch Base Holland Club and Life Member Jim Denzien, our Perch Base Commander and Life Member Howard Doyle, Perch Base Member Don Robertson, and Perch Base Webmaster and Life Member Dan Marks were there to help.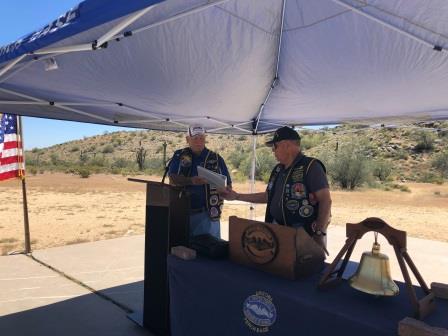 Annual Picnic:
Perch Base held its Annual Picnic meeting on Saturday, April 13, 2019. Some members from Tautog Base (Casa Grande) and Gudgeon Base (Prescott Valley) joined us.
Our Perch Base Commander, Howard Doyle opened the meeting and our Perch Base Chaplain, Governor Joy gave the invocation and the Chief of the Boat, COB, Carl Miner tolled the bell for the lost boats ceremony.
Ceremonies included Western Region District 1 Commander Vic Van Horn (left) awarding our Perch Base Commander, Howard Doyle, his Base Commander Manual.
View more details and pictures HERE.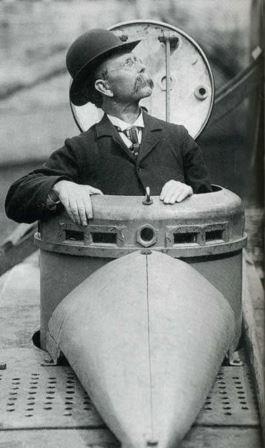 HAPPY BIRTHDAY
The "Submarine Force Birthday" is April 11. Holland VI was purchased by the U.S. government for the sum of $150,000 on 11 April 1900 from John Phillip Holland's Holland Torpedo Boat Company. She was considered to be the first truly successful craft of her type. Holland VI was modified after her christening, and was renamed USS Holland (SS-1) when she was commissioned. The United States Government soon ordered more submarines from Holland's company, which became the Electric Boat company. These boats were to be known as the Plunger class. These became America's first fleet of underwater naval vessels.
Some Submariners consider April 11 to be "Wear Your Dolphins to Work Day."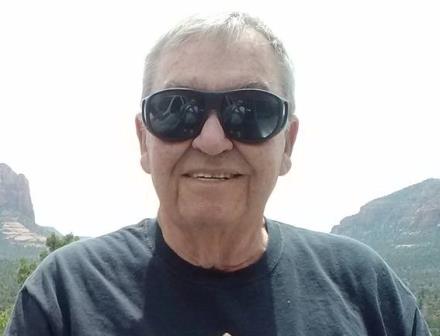 Dewey Reed
Perch Base Life Member and Holland Club Member Dewey Reed STC(SS) departed on Eternal Patrol on March 4, 2019.
Our condolences to his wife, Dottie, and the rest of the family.
The memorial service and urn placement for Dewey Reed at the National Memorial Cemetery was conducted Tuesday, April 2, 2019 at 12:30 p.m.
View the obituary HERE.
SAILOR, REST YOUR OAR! YOUR WATCH HAS ENDED.
Your Brothers of the 'Phin Have the Watch.
Fair Winds and Following Seas, Shipmate.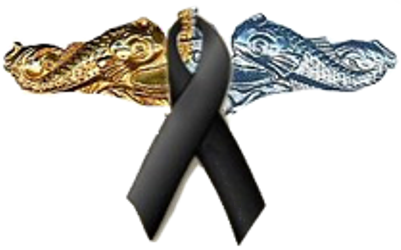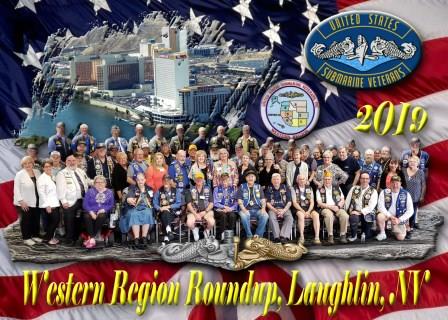 Western Regional Roundup:
The Annual United States Submarine Veterans Western Regional Roundup was held from March 25, 2019 to March 28, 2019 at Don Laughlin's Riverside Resort Hotel & Casino in Laughlin, NV.
Activities included a Memorabilia Auction, Fun Nite, a Joint Men & Women's Lunch with Speaker Frank Hood, author of "Poopy Suits & Cowboy Boots," a Tolling of the Boats Ceremony, a performance by "The Letterman" in Don's Celebrity Theater, a tour of the Submarine Museum at the Golden Valley, AZ, VFW Post 2555, a dinner with speaker Capt. Richard Noreika, USN (ret,) and several workshops.
View more details and pictures HERE.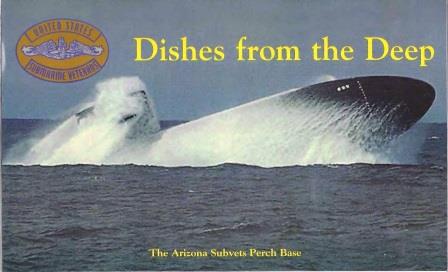 "Dishes From the Deep,"
Perch Base published a 140 page Perch Base cookbook titled, "Dishes From the Deep," vintage 1996, as a base fundraiser. Thanks to Layne Moss who provided a copy.
The recipes taste as good today as they did 23 years ago!
View the cookbook and read more about the cookbook's history HERE.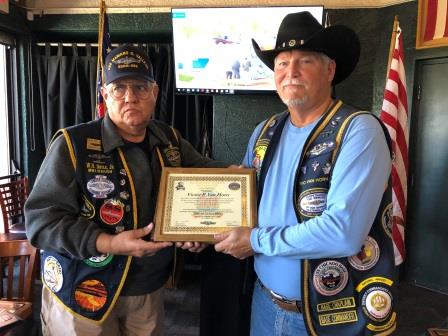 Bravo Zulu Vic!
Perch Base Life Member Vic Van Horn was inducted into the Holland Club, having been qualified in submarines for 50 years.
The photo, above, shows the Perch Base Commander, Howard Doyle, (left) awarding Vic Van Horn (right) his Holland Club certificate, letter and coin during the monthly meeting on March 9, 2019.
WANT TO CARPOOL?
NEED A RIDE?
The image, above, shows that we have members all over metropolitan Phoenix. Left-click on the image for a larger view. If you are a Perch Base member and would like to consider carpooling, you are willing to pickup another member, or you need a ride to meetings or events, send an email to the webmaster at webmaster@perch-base.org.
The Board of Directors will attempt to match you with another nearby member who has similarly asked to carpool, or is willing to pickup another member. The Board will then provide the name, email, and phone number to the interested members that can then get in touch with each other to make specific arrangements. We are not publicly posting names or personal information to maintain privacy.
Keep in mind that if you wait until the last minute to request a match-up for a particular event, we may not be able to respond in time.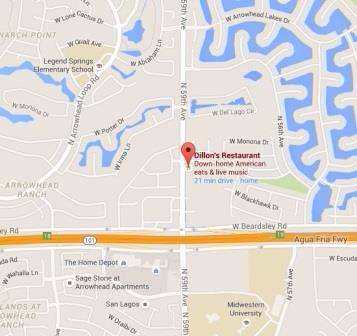 JOIN US AT A MEETING.
We meet the second Saturday of every month at 1200 hours (noon if you've been out a while) at Dillon's Restaurant, 20585 North 59th Ave, Glendale, AZ 85308-6821 (Left-click address, or the map above, for a Google map to Dillon's.) Come at 1100 for time to "socialize."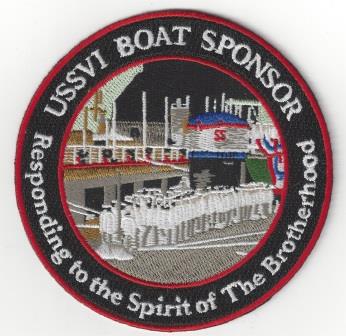 BOAT SPONSORSHIP PROGRAM
The purpose of the Boat Sponsorship Program (BSP) is to make the active duty submarine force members aware of USSVI and provide them with information about our activities through sponsorship of the American Submariner to the various Submarine related organizations. After all, these force members represent the future core membership of USSVI.
Perch Base is a sponsor, but did you know that individual members may sponsor each Fast Attack Submarine and/or each crew of the Boomers? Magazines are also sent to VA hospitals, NROTC units, schools and other places. The cost is $30 per year for a total of 12 magazines (three each of the four annual volumes.)
Our Perch Base Life Member Vic Van Horn is the USSVI BSP Program Manager. Let's make Vic proud. Check your copy of the American Submariner to sign up for the program.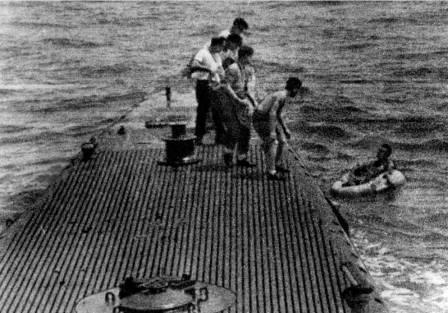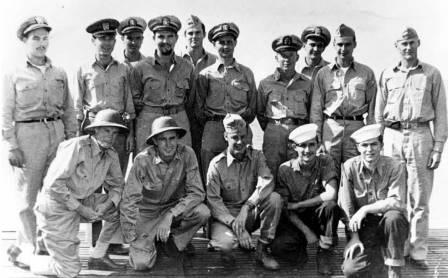 Lt. (jg) George Herbert Walker Bush
In the upper picture, above, the crew of the USS Finback (SS-230) rescues downed pilot, Lieutenant Bush of Torpedo Squadron 51 on September 2, 1944 after Japanese antiaircraft defense shot down his torpedo bomber between the northeastern end of Minami Jima and the southern tip of Chichi Jima. (Left-click the picture to enlarge.)
In the bottom picture, Rescued pilots and the crew and officers of the Finback. Lt. (jg) George Herbert Walker Bush is second from the left in the front row.
Bush, and 4 other rescued aviators remained on the Finback as "guests" while she tracked and attacked convoys, endured depth charges from Japanese escort ships, and sank two ships (an oiler and small cargo ship). The five ended their stay on the Finback on Midway Island on September 29, after 29 days aboard the submarine (and crossing the international date line).
Read more about how the submarine service performed "Lifeguard Duty" during WW2 in the National Archives HERE.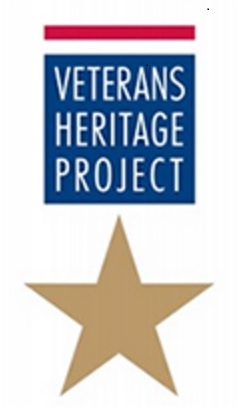 Veterans Heritage Project
Perch Base member Dick Noreika, Capt. USN (ret) encourages any submariners, but especially diesel boat sailors, to register for the Veterans Heritage Project. Many or our older sub sailors are sadly going on eternal patrol with stories that will be lost forever.
Contact Dick to get registered by emailing him at dicdic@msn.com, or snail mail to P.O. Box 5272, Carefree, AZ 85377-5272.
Students in the Veterans Heritage Project (formerly Arizona Heritage Project) from chapter schools have conducted nearly 1,000 interviews with veterans from World War I to Afghanistan. An important reason to collect these narratives is to preserve them for future generations with the Veterans History Project at the Library of Congress in Washington DC, which has collected over 85,000 stories to date.
Click video to START.
The Loss of the Perch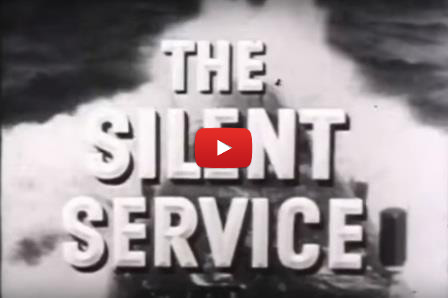 Click HERE to select another video.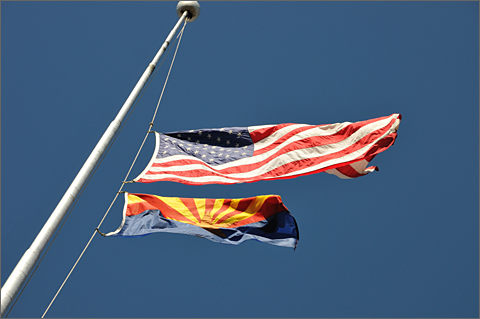 When should I fly the American Flag at half staff?
65 U.S. Submarines never returned to port. Click on Eternal Patrol and see pictures and stories of the "boats" that remain at sea . . . forever, on eternal patrol.

USSVI Creed:
"To perpetuate the memory of our shipmates who gave their lives in the pursuit of their duties while serving their country. That their dedication, deeds and supreme sacrifice be a constant source of motivation toward greater accomplishments. Pledge loyalty and patriotism to the United States of America and its Constitution.
In addition to perpetuating the memory of departed shipmates, we shall provide a way for all Submariners to gather for the mutual benefit and enjoyment. Our common heritage as Submariners shall be strengthened by camaraderie. We support a strong U.S. Submarine Force.
The organization will engage in various projects and deeds that will bring about the perpetual remembrance of those shipmates who have given the supreme sacrifice. The organization will also endeavor to educate all third parties it comes in contact with about the services our submarine brothers performed and how their sacrifices made possible the freedom and lifestyle we enjoy today."

We honor those submariners
who have never
returned to port
and remain on
Eternal Patrol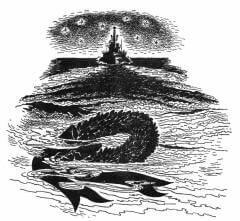 Click on the picture, above,
to see those boats on
"Eternal Patrol"

IF YOU'VE EARNED THESE...

WE are an organization with but one simple requirement to join
— have you ever worn Dolphins?
(been designated, "Qualified in Submarines.")
All of us have served their country
in the Silent Service

...WE WANT YOU!

Because we are the "SILENT SERVICE," many people are unaware of the services our submarine Brothers of the 'Phin performed in the Korean and Vietnam Wars. Thirty submarines served in the Korean War, as detailed on the Korean War Educator website *. Sixty-six submarines served in the Vietnam War, as detailed in a letter from United States Secretary of the Navy Ray Mabus. Also check out the related SubVet_News-2019-030 regarding Agent Orange exposure by Blue Water veterans.

Click on this sentence, or the photo, below, to see how the float was constructed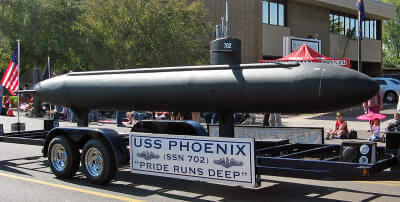 To honor those who currently serve, and those who went before us, we built this float that we use in parades and static displays. The float is a 1/15 scale model of the nuclear powered submarine USS Phoenix (SSN-702,) named after our city. The Phoenix was a Los Angeles-class submarine that was 362 feet long and, on the surface, had 32 feet of the ship under water.
Need a description of the Perch Base float, a scale model of the USS Phoenix (SSN-702)?
Click on the document icon, below, to get the approved and authentic script suitable for parades or other public events.
Refer the event organizers to http://www.perch-base.org/Float-Announcer-Script.pdf