More details in HOT ITEMS
Static Display

-

9:00 AM to 1:00 PM.
-
White Tanks Park

-

11:00 AM to 3:00 PM.
-
Parade at 11 AM

-

Breakfast at 7:30 AM.
-
National Memorial Cemetery of Arizona

-

8:00 AM.
-
Patrick J. Keany, 88, passed away, April 19, 2015, after a brief illness.
Proudly, he served his country on a submarine in the Pacific during WWII. Patrick served on the Submarine Tender USS Sperry, AS-12, in 1944 and as a member of the relief crew of the USS Silversides, SS-236, in 1944. From 1944 to 1946, Patrick served on the USS Kingfish, SS-234, during War Patrols 10, 11 and 12. In 1946, after the war, he served on the USS Cod, SS-224 and the USS Ray, SS-271 until he was released as a SC2(SS)
Perch Base participation is not yet determined, but visitation will be held from 5:00-7:00 PM with a Rosary at 7:00 PM, Friday, April 24, 2015 at Whitney & Murphy Funeral Home, 4800 E. Indian School Road, Phoenix, AZ. Funeral Mass will be at 9:00 AM, Saturday, April 25, 2015 at St. Mary's Basilica, 231 N. 3rd Street, Phoenix, AZ. Interment will follow at St. Francis Catholic Cemetery.
The full obituary may be viewed here.

Early Tuesday, April 21, 2015, Jim Strassels lost his battle with cancer and departed on Eternal Patrol. At the request of the family, Perch Base will participate in both the church and graveside services, but details of both have not been set and will be announced later.
Jim had many friends and shipmates. Don't hesitate to pass this notice on to any who may care.
A preliminary obituary may be viewed here.
| | | |
| --- | --- | --- |
| When should I fly the American Flag at half staff? | 65 U.S. Submarines never returned to port. Click on Eternal Patrol and see pictures and stories of the "boats" that remain at sea . . . forever, on eternal patrol. | Need to reach us or have a question? |
USSVI Creed:
"

To perpetuate the memory of our shipmates who gave their lives in the pursuit of their duties while serving their country.

That their dedication, deeds and supreme sacrifice be a constant source of motivation toward greater accomplishments. Pledge loyalty and patriotism to the United States of America and its Constitution.
In addition to perpetuating the memory of departed shipmates, we shall provide a way for all Submariners to gather for the mutual benefit and enjoyment.

Our common heritage as Submariners shall be strengthened by camaraderie. We support a strong U.S. Submarine Force.
The organization will engage in various projects and deeds that will bring about the perpetual remembrance of those shipmates who have given the supreme sacrifice.

The organization will also endeavor to educate all third parties it comes in contact with about the services our submarine brothers performed and how their sacrifices made possible the freedom and lifestyle we enjoy today."
We honor those submariners
who have never
returned to port
and remain on
Eternal Patrol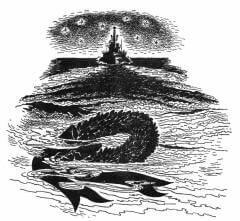 Click on the picture, above,
to see those boats on
"Eternal Patrol"
IF YOU'VE EARNED THESE...

WE are an organization with but one simple requirement to join
— have you ever worn Dolphins?
(been designated, "Qualified in Submarines.")

All of us have served their country
in the Silent Service

...WE WANT YOU!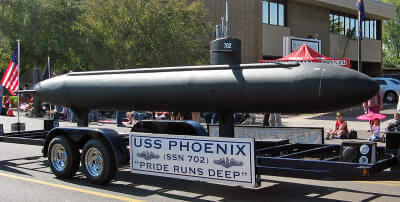 To honor those who currently serve, and those who went before us, we built this float that we use in parades and static displays. The float is a 1/15 scale model of the nuclear powered submarine USS Phoenix (SSN-702,) named after our city. The Phoenix was a Los Angeles-class submarine that was 362 feet long and, on the surface, had 32 feet of the ship under water.