More details in HOT ITEMS
Frontier Days® Inc. Parade in Prescott.

- Staging float at 8, roll at 9. See Flash Traffic 06-07-2015 for details
-
Let Chuck Emmett know if you would like to go to BBQ. -

NO NOTIFY, NO GO!!
-
Join us Saturday, July 11 at 1200 hours (noon if you've been out a while) at Dillon's Restaurant. Come at 1100 for time to "socialize."

-

If you need directions, click on the Google Map in the left column.
-
Lest we forget to perpetuate the memory of our shipmates who gave their lives in the pursuit of their duties while serving their country. . .
71 years ago, on July 4, 1944, the USS S-28 (SS-133), sailed off into history on her final and eternal patrol.
Following a Hawaii overhaul S-28, on 3 July 1944, began training operations off Oahu. The antisubmarine warfare exercises continued into the evening of 4 July. As evening began contact between her and surface ships became sporadic and, at 18:20, the last, brief contact with S-28 was made and lost. All attempts to establish communications failed and a thorough search of the area failed to locate the submarine. A Court of Inquiry was unable to determine the cause of the loss of S-28.
49 men were lost.
"Sailors, rest your oars, we have the watch."
Visit the Perch Base Eternal Patrol page.

Perch Base members celebrated the 20th birthday of the base during the meeting on June 13, 2015. (The actual charter date was June 20, 1995.) Steve Day, one of the charter members, and his wife were present for the celebration.
Cake was served, a proclamation from Al Singleman, USSVI National Commander, was read, and a presentation of pictures from the original meeting was shown.
See more pictures on the Events Page.

Better (posting pictures) late than never?
The Annual United States Submarine Veterans Western Regional Roundup was held from 26 April 2015 to 1 May 2015 at the Aquarius Casino Resort in Laughlin, NV.
Activities included a tour of the Submarine Memorial Museum at VFW 2555 in Golden Valley (near Kingman, AZ,) formal and informal luncheons and dinners, a boat ride, a fun nite, a joint BBQ with American Legion Post 60, a cribbage and acey-deucy tournament, and a Tolling of the Boats ceremony.
See more pictures on the Events Page.

Click video to START / STOP.

Click HERE to select another video.
| | | |
| --- | --- | --- |
| When should I fly the American Flag at half staff? | 65 U.S. Submarines never returned to port. Click on Eternal Patrol and see pictures and stories of the "boats" that remain at sea . . . forever, on eternal patrol. | Need to reach us or have a question? |
USSVI Creed:
"

To perpetuate the memory of our shipmates who gave their lives in the pursuit of their duties while serving their country.

That their dedication, deeds and supreme sacrifice be a constant source of motivation toward greater accomplishments. Pledge loyalty and patriotism to the United States of America and its Constitution.
In addition to perpetuating the memory of departed shipmates, we shall provide a way for all Submariners to gather for the mutual benefit and enjoyment.

Our common heritage as Submariners shall be strengthened by camaraderie. We support a strong U.S. Submarine Force.
The organization will engage in various projects and deeds that will bring about the perpetual remembrance of those shipmates who have given the supreme sacrifice.

The organization will also endeavor to educate all third parties it comes in contact with about the services our submarine brothers performed and how their sacrifices made possible the freedom and lifestyle we enjoy today."
We honor those submariners
who have never
returned to port
and remain on
Eternal Patrol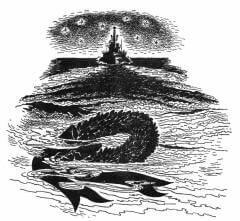 Click on the picture, above,
to see those boats on
"Eternal Patrol"
IF YOU'VE EARNED THESE...

WE are an organization with but one simple requirement to join
— have you ever worn Dolphins?
(been designated, "Qualified in Submarines.")

All of us have served their country
in the Silent Service

...WE WANT YOU!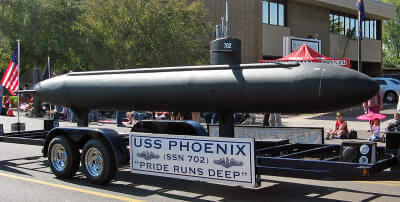 To honor those who currently serve, and those who went before us, we built this float that we use in parades and static displays. The float is a 1/15 scale model of the nuclear powered submarine USS Phoenix (SSN-702,) named after our city. The Phoenix was a Los Angeles-class submarine that was 362 feet long and, on the surface, had 32 feet of the ship under water.