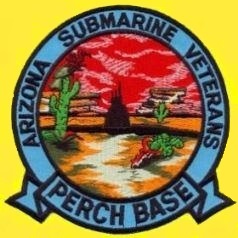 Arizona Submarine Veterans
Perch Base
Phoenix, AZ
United States Submariners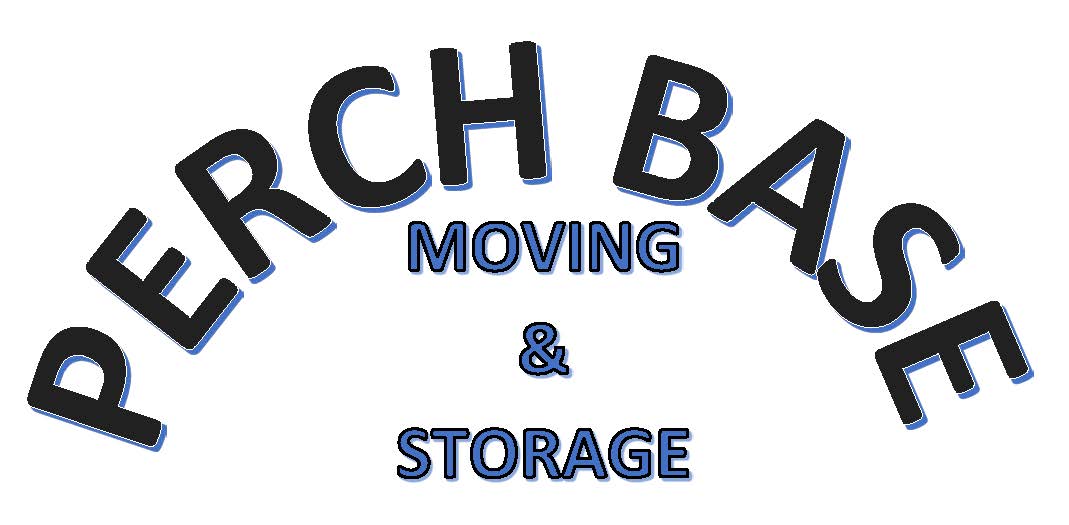 Remember that our USSVI Creed, in part, includes "we shall provide a way for all Submariners to gather for the mutual benefit . . . Our common heritage as Submariners shall be strengthened by camaraderie."
On December 12, 2018 Perch Base Holland Club and Life Member Dick Noreika, Capt, USN, (ret) needed help to move his brother David's personal effects to an assisted living facility following David's surgery. Perch Base Holland Club and Life Member Jim Denzien, Perch Base Webmaster and Life Member Dan Marks, and Dan's son Jeremy were there to help.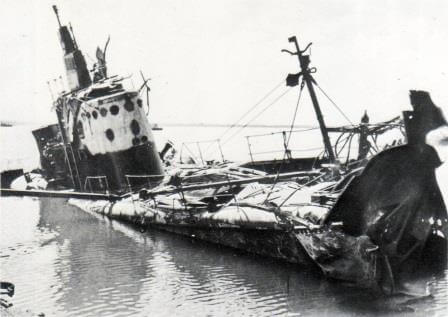 Lest we forget to perpetuate the memory of our shipmates who gave their lives in the pursuit of their duties while serving their country. . .
77 years ago, on Dec. 10, 1941, the USS Sealion (SS-195) sailed off into history on her final and eternal patrol.
She was the first submarine sunk by enemy action in WWII, she was bombed by a Japanese warplane in Cavite Navy Yard, Philippines.
33 men were lost.
"Sailors, rest your oars, we have the watch."
Visit the Perch Base Eternal Patrol page.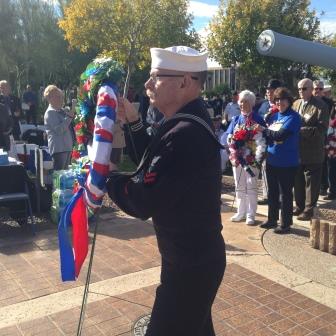 Perch Base attended the Pearl Harbor Day event on 12/07/2018 at the Wesley Bolin Plaza by the Arizona State Capitol to place wreaths during the ceremony.
We placed two wreaths. One for the WW2 Submarine Veterans and one for Perch Base.
View the pictures HERE.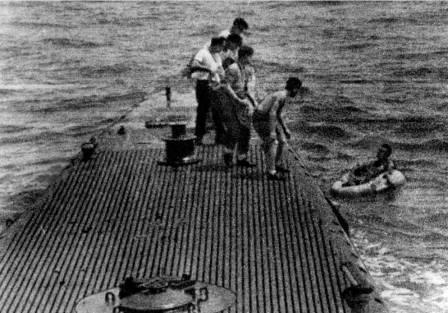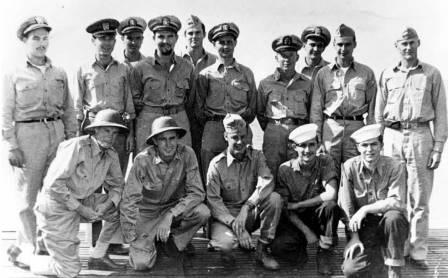 Lt. (jg) George Herbert Walker Bush
In the upper picture, above, the crew of the USS Finback (SS-230) rescues downed pilot, Lieutenant Bush of Torpedo Squadron 51 on September 2, 1944 after Japanese antiaircraft defense shot down his torpedo bomber between the northeastern end of Minami Jima and the southern tip of Chichi Jima. (Left-click the picture to enlarge.)
In the bottom picture, Rescued pilots and the crew and officers of the Finback. Lt. (jg) George Herbert Walker Bush is second from the left in the front row.
Bush, and 4 other rescued aviators remained on the Finback as "guests" while she tracked and attacked convoys, endured depth charges from Japanese escort ships, and sank two ships (an oiler and small cargo ship). The five ended their stay on the Finback on Midway Island on September 29, after 29 days aboard the submarine (and crossing the international date line).
Read more about how the submarine service performed "Lifeguard Duty" during WW2 in the National Archives HERE.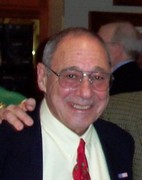 George Debo
Perch Base and Holland Club Member George Debo, RM1(SS) departed on Eternal Patrol on November 15, 2018.
George qualified in Submarines aboard USS Tilefish (SS-307) in 1952 and was a RM1(SS) when he left the USNR. He was a past member of the USSVI Seattle Base and a current member of the USSVI Perch Base near Phoenix AZ.
A second generation Submariner, his father served aboard USS Tirante (SS-420) under the Medal of Honor Winning Capt George L Street in WWII.
SAILOR, REST YOUR OAR! YOUR WATCH HAS ENDED.
Your Brothers of the 'Phin Have the Watch.
Fair Winds and Following Seas, Shipmate.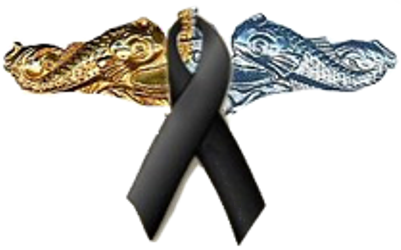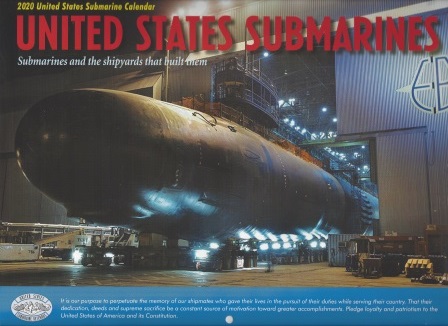 2019 Calendars are HERE!
The new 2019 calendars will be available for purchase for $10.00 from the Storekeeper at the monthly meetings at Dillon's Restaurant, starting with the December meeting.
Contact Marcus the Storekeeper (storekeeper@perch-base.org) if special additional costs or arrangements, such as mailing, are needed.
This is the major fundraiser for USSVI National to promote programs such as scholarships, the "Brotherhood Program" that helps needy submarine veterans, and improving and maintaining memorials.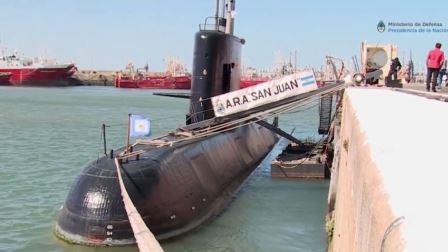 Although we usually only remember boats of the U.S. Navy, we extend our thoughts and prayers to the 44 "Brothers (and Sister) of the Phin" and their families in Argentina. The ARA San Juan was returning from a routine mission to Ushuaia, near the southernmost tip of South America, when it reported an "electrical breakdown" on November 15, 2017 and was not heard from again. More than a dozen countries have participated in the search for the sub that was found a year later on November 17, 2018. 40 Shipmates Lost.
"Sailors, rest your oars, we have the watch."
Visit the Perch Base Eternal Patrol page.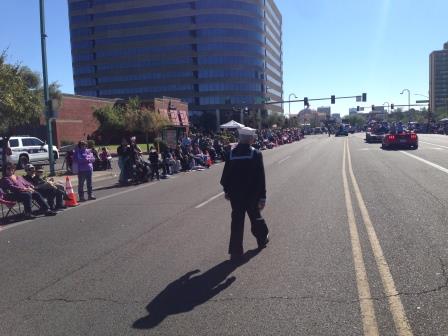 Phoenix Veterans Day
Perch Base took the USS Phoenix float to the Phoenix, Arizona, Veterans Day Parade on Monday, November 12, 2018.
Doug and Carl still fit in their dress blues!
View more details and pictures HERE.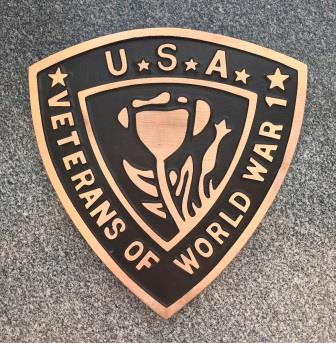 Armistice Day
Perch Base members attended Centennial Rededication of the World War I Monument at the Wesley Bolin Memorial Plaza in front of the Arizona State Capitol Building on the 11th hour of the 11th day of the 11th month, November 11, 2018, on the the 100th anniversary of the Armistice ending World War I.
View more details and pictures HERE.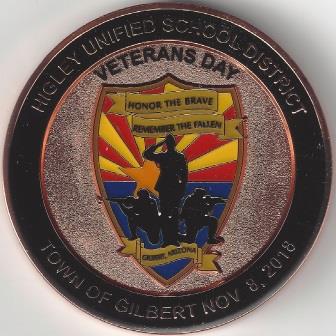 Gilbert Veterans Day
Several Perch Base members attended the 2018 Town of Gilbert, AZ Veterans Day Ceremony on November 8, 2018, at the Gilbert Municipal Center.
They say, "There's no such thing as a free lunch," but local restaurants fed us, too!
View more details and pictures HERE.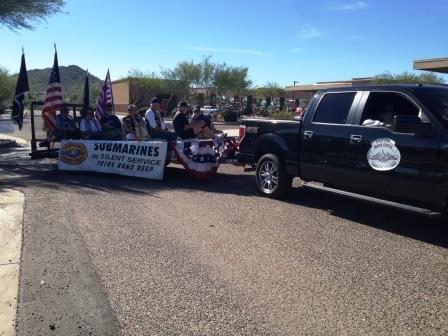 Anthem
Perch Base took the USS Phoenix float to the Anthem (Daisy Mountain Vets), Arizona, Veterans Day Parade on Saturday, November 3, 2018.
View more pictures of the Anthem Parade HERE.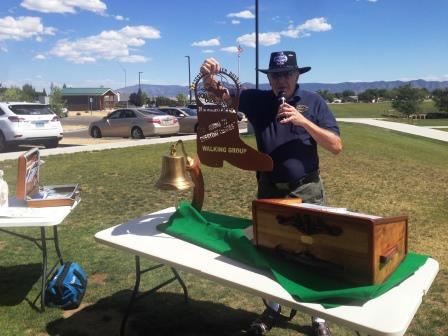 Gudgeon Base Picnic
The Perch Base escaped the Phoenix summer heat while attending the Gudgeon Base Picnic on September 15, 2018 in Prescott Valley, AZ. Nineteen Perch Base members and wives attended. (some are dual members of both bases.)
Among the fine food and company, Tom Warner, the Gudgeon Base Commander showed off the award that the "US Submarine Veterans Gudgeon Base/Perch Base" entry won in the "Walking Group" category in the Prescott Frontier Days® Parade.
View more pictures HERE.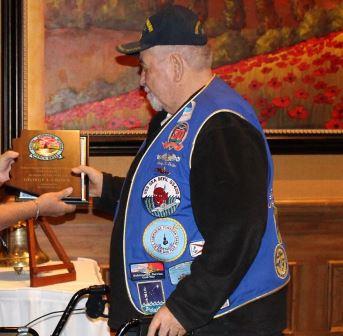 George Crider
Perch Base Life Member and Holland Club Member George Crider, STSCS(SS) departed on Eternal Patrol on August 16, 2018.
Our condolences to his wife, Sharon, and the rest of the family.
There were 2 services, both on the same day, Thursday, September 20th.
The first was a service at the National Memorial Cemetery of Arizona and the second was a Celebration of George Crider's life at the Sun City Salvation Army chapel.
George first qualified on the USS Sea Devil (SS-400) in 1960 and served on 6 boats during his service from 1958 to his retirement in 1979.
SAILOR, REST YOUR OAR! YOUR WATCH HAS ENDED.
Your Brothers of the 'Phin Have the Watch.
Fair Winds and Following Seas, Shipmate.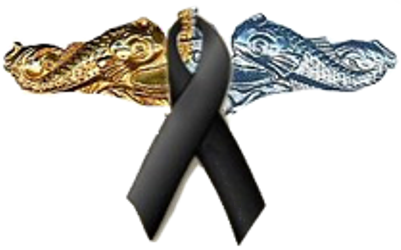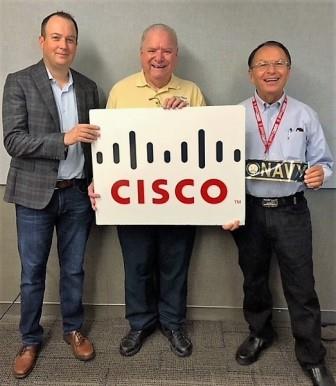 Cisco Sponsors the Cisco!
One of the fundraising promotions we started for the Arizona Silent Service Memorial (ASSM) project was the Lost Boat Sponsorship Program which was launched in August 2015. For a $500 donation, individuals, businesses and veteran's organizations could sponsor one of the 65 submarines that we have lost since the inception of the U.S. Navy Submarine Service in 1900.
Tim Moore, the ASSM Chairman, first contacted Cisco Systems in Phoenix in December 2017 and made a proposal to them to sponsor the USS Cisco SS-290 lost on 28 Sep 1943. At the time, management was very enthusiastic and supportive of the idea. Tim was asked to coordinate the idea with Larry LaVeque, a Cisco Account Manager. They said Larry was ex-Navy and would be the ideal person to promote this idea.
Tim was invited to come into their office on August 16th for check presentation for the $500 for the Lost Boat Sponsorship for the USS Cisco SS-290.
ASSM is extremely grateful to Jerod Adkins, Larry Laveque and the entire Cisco System Southwest Regional team here in Phoenix. It is because of local businesses like Cisco Systems, who participate in veterans' projects, that we have been successful with our ASSM Lost Boat Sponsorship program.
The photo shows (L to R:) Jerod Adkins, Cisco Systems SW Regional Manager, Tim Moore, ASSM Chairman, and Larry LaVeque, Cisco Systems Account Manager
Thank you, Cisco Systems.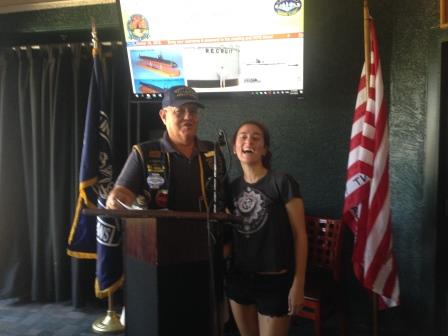 Base Scholarships
Congratulations to the 2018 Base Scholarship recipients.
Jaid Urness
Cameron Millette
Jacen Millette
Cole Norieka
The Arizona Submarine Veterans Perch Base (Perch Base) believes it is part of our mission to assist, where possible, the dependent sons, daughters and grandchildren of our members in pursuit of a post-high school education.
Jaid Urness, Chris Urness' daughter, was at the meeting on August 11 to accept her scholarship.
View and read more about the Base Scholarship presentation HERE.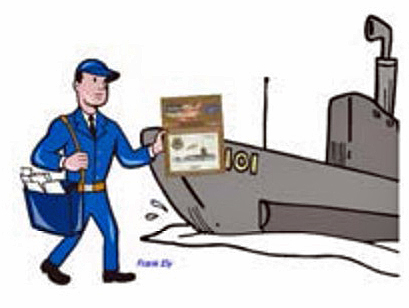 BOAT SPONSORSHIP PROGRAM
The purpose of the Boat Sponsorship Program (BSP) is to make the active duty submarine force members aware of USSVI and provide them with information about our activities through sponsorship of the American Submariner to the various Submarine related organizations. After all, these force members represent the future core membership of USSVI.
Perch Base is a sponsor, but did you know that individual members may sponsor each Fast Attack Submarine and/or each crew of the Boomers? Magazines are also sent to VA hospitals, NROTC units, schools and other places. The cost is $30 per year for a total of 12 magazines (three each of the four annual volumes.)
Our Perch Base Life Member Vic Van Horn is the USSVI BSP Program Manager. Let's make Vic proud. Check your copy of the American Submariner to sign up for the program.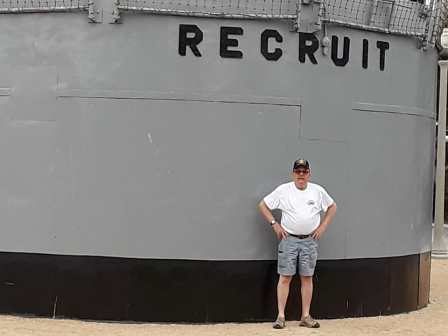 Jim Goes Back to Boot Camp!
Perch Base Membership Chairman and Life Member Jim Andrews visited the former San Diego Recruit Training Center (RTC), now Liberty Station Park. Jim was accompanied by his wife, Marcie. Many of us (including your Webmaster) went there for Boot Camp when we enlisted.
This may bring back great memories, or terrible nightmares, including shaved heads, wake-up calls with banging trash cans and endless marches on the grinder. Jim's RTC visit included the USS Recruit. In my day, we called it the USS Neversail.
Ater visiting the Recruit Training Center, Jim and Marcie toured the USS Midway Museum.
View more pictures HERE.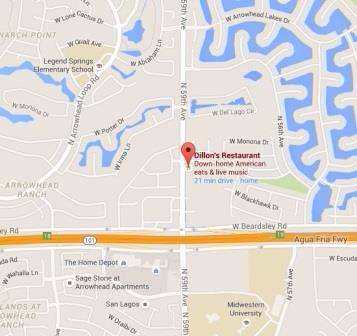 JOIN US AT A MEETING.
We meet the second Saturday of every month at 1200 hours (noon if you've been out a while) at Dillon's Restaurant, 20585 North 59th Ave, Glendale, AZ 85308-6821 (Left-click address, or the map above, for a Google map to Dillon's.) Come at 1100 for time to "socialize."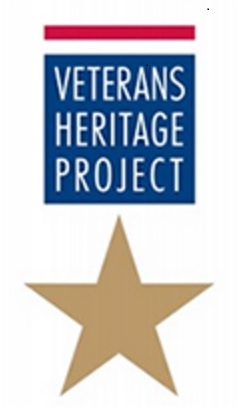 Veterans Heritage Project
Perch Base member Dick Noreika, Capt. USN (ret) encourages any submariners, but especially diesel boat sailors, to register for the Veterans Heritage Project. Many or our older sub sailors are sadly going on eternal patrol with stories that will be lost forever.
Contact Dick to get registered by emailing him at dicdic@msn.com, or snail mail to P.O. Box 5272, Carefree, AZ 85377-5272.
Students in the Veterans Heritage Project (formerly Arizona Heritage Project) from chapter schools have conducted nearly 1,000 interviews with veterans from World War I to Afghanistan. An important reason to collect these narratives is to preserve them for future generations with the Veterans History Project at the Library of Congress in Washington DC, which has collected over 85,000 stories to date.
Click video to START.
The Loss of the Perch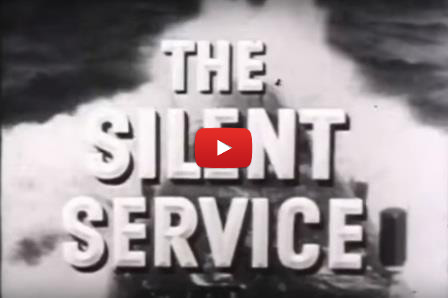 Click HERE to select another video.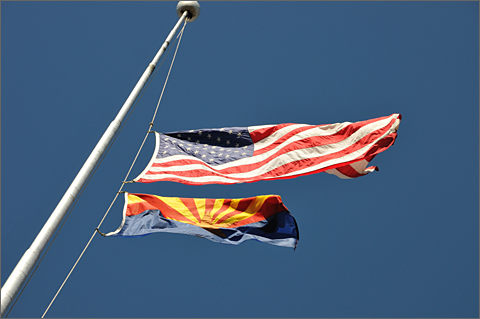 In coordination with the Presidential proclamation, Governor Ducey has ordered flags at all state buildings remain at half-staff until sunset Sunday, December 30, 2018, to honor the life of President George H.W. Bush, the 41st President of the United States, who passed away on Friday, Nov 30 at the age of 94.
Governor Doug Ducey released the following statement on the passing of former President George H.W. Bush:
"Arizona and America mourn the loss this morning of President George H.W. Bush.
"Through his life of service, President Bush, #41, made America a better nation, from World War II to the White House.
"He brought experienced, principled leadership to the presidency. His significant foreign policy achievements include helping bring an end to the Cold War and freedom to Eastern Europe, leading the coalition that turned back Saddam Hussein's invasion of Kuwait, and ushering in new agreements for the reduction of nuclear weapons. It can undoubtedly be said that his time in office saw the world become a safer, more stable place.
"Before being elected president, President Bush had lived a full life of devoted service to our nation that included serving as vice president, CIA director, a member of Congress, Ambassador to the United Nations, and as a decorated Navy pilot in World War II. He continued to serve after leaving office, taking on the role of an American ambassador of goodwill during times of need. His compassion, sense of humor and love for our nation are qualities Americans of all ages enjoyed in the years following his presidency.
"Among his many accomplishments, President Bush will also be remembered as the last World War II veteran to serve as president.
"It is with a heavy heart that we say goodbye to George H.W. Bush – a president, a veteran, a father, grandfather and great-grandfather -- an American patriot."
Individuals, businesses, and other organizations are encouraged to join in this tribute.
65 U.S. Submarines never returned to port. Click on Eternal Patrol and see pictures and stories of the "boats" that remain at sea . . . forever, on eternal patrol.

USSVI Creed:
"To perpetuate the memory of our shipmates who gave their lives in the pursuit of their duties while serving their country. That their dedication, deeds and supreme sacrifice be a constant source of motivation toward greater accomplishments. Pledge loyalty and patriotism to the United States of America and its Constitution.
In addition to perpetuating the memory of departed shipmates, we shall provide a way for all Submariners to gather for the mutual benefit and enjoyment. Our common heritage as Submariners shall be strengthened by camaraderie. We support a strong U.S. Submarine Force.
The organization will engage in various projects and deeds that will bring about the perpetual remembrance of those shipmates who have given the supreme sacrifice. The organization will also endeavor to educate all third parties it comes in contact with about the services our submarine brothers performed and how their sacrifices made possible the freedom and lifestyle we enjoy today."

We honor those submariners
who have never
returned to port
and remain on
Eternal Patrol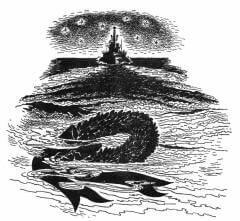 Click on the picture, above,
to see those boats on
"Eternal Patrol"

IF YOU'VE EARNED THESE...

WE are an organization with but one simple requirement to join
— have you ever worn Dolphins?
(been designated, "Qualified in Submarines.")
All of us have served their country
in the Silent Service

...WE WANT YOU!

Because we are the "SILENT SERVICE," many people are unaware of the services our submarine Brothers of the 'Phin performed in the Korean and Vietnam Wars. Thirty submarines served in the Korean War, as detailed on the Korean War Educator website *. Sixty-six submarines served in the Vietnam War, as detailed in a letter from United States Secretary of the Navy Ray Mabus.

Click on this sentence, or the photo, below, to see how the float was constructed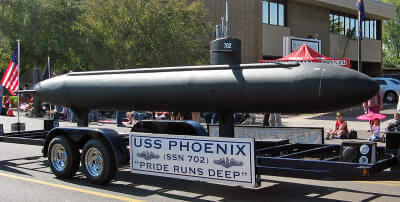 To honor those who currently serve, and those who went before us, we built this float that we use in parades and static displays. The float is a 1/15 scale model of the nuclear powered submarine USS Phoenix (SSN-702,) named after our city. The Phoenix was a Los Angeles-class submarine that was 362 feet long and, on the surface, had 32 feet of the ship under water.
Need a description of the Perch Base float, a scale model of the USS Phoenix (SSN-702)?
Click on the document icon, below, to get the approved and authentic script suitable for parades or other public events.
Refer the event organizers to http://www.perch-base.org/Float-Announcer-Script.pdf